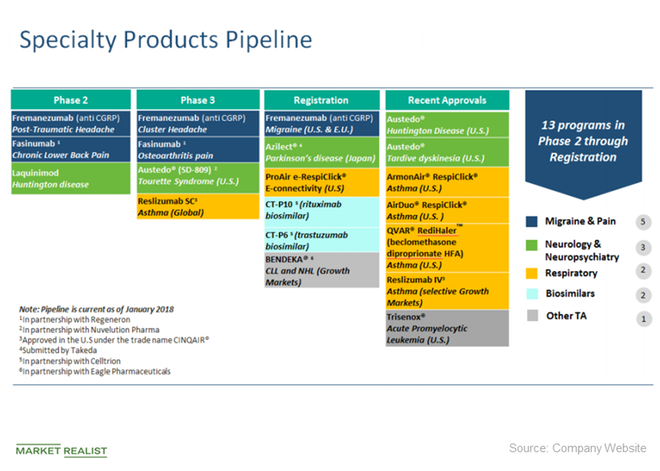 Non-Opioid Pain Therapy Market Opportunity for Teva
Teva's key drug candidates in the non-opioid therapy market
On August 16, Teva announced positive top-line data for its NGF-inhibitor Fasinumab, which is being developed in collaboration with Regeneron. We discussed this development in detail in the previous article in this series. The stock rose ~7.5% on the day.
Teva's stock price rise was also boosted by the FDA approval of Teva's generic version of EpiPen, which we covered in FDA Approves Teva's Generic Version of EpiPen, Stock Up 7.5%. Teva also has Fremanezumab in its product pipeline, which is expected to be a key growth driver for the company and is being developed for the treatment of migraines.
Article continues below advertisement
Market opportunities and competition
Fasinumab works by blocking a protein called NGF (nerve growth factor), which was found to play a central role in the signaling of pathways which are activated in response to pain. Recently, Eli Lilly (LLY) and Pfizer (PFE) also reported positive Phase 3 data for their NGF-inhibitor tanezumab, which is a potential major competitor for Fasinumab.
Fasinumab is a key product in Teva's pipeline, as it has an immense potential market opportunity. Currently, there are very few chronic pain therapies available in the market except for opioids or non-steroidal anti-inflammatory drugs.
President Trump aims to cut opioid prescriptions by one-third over the next three years. Working toward this goal, the Trump administration proposed production cuts in some of the most abused opioid compounds by 10% next year.
However, these drugs have a history of discontinued trials owing to significant side effects. Fasinumab was also placed under a clinical hold by the FDA in 2016. Although the prospects are high, it's a high-risk product category.
Be sure to check out all the data we've added to our quote pages. Now you can get a valuation snapshot, earnings and revenue estimates, and historical data, as well as dividend information. Take a look!