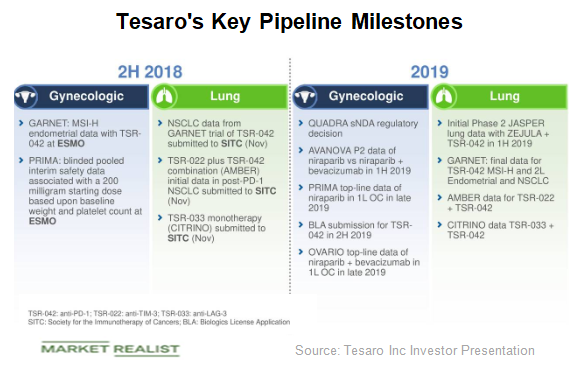 Here's What Tesaro's Valuation Trend Indicates
Research pipeline
Tesaro's (TSRO) Phase 3 PRIMA trial of Zejula to evaluate it for the treatment of women with newly diagnosed ovarian cancer, irrespective of BRCA mutation status, has been completely enrolled. Its Phase 2 trial of Zejula in combination with an anti-PD-1 antibody in first-line non-small cell lung cancer is ongoing. The company expects to present data in the first half of 2019. In its immuno-oncology pipeline, Tesaro plans to submit a BLA (Biologic License Application) for TSR-042 in 2019.
Article continues below advertisement
Article continues below advertisement
Valuation metrics
Tesaro stock has been on a downward trajectory for the past 52 weeks. From a high of $135 on September 5, 2017, the stock has corrected to $27 in August. Following the revised guidance from the company in its second-quarter results, Tesaro stock fell from $35.28 on August 2 to $26.97 on August 3.
Tesaro's revised guidance for fiscal 2018 reflects the divestment of Varubi in the United States and Canada. The company expects to generate revenues of $250 million–$265 million in fiscal 2018 compared to the previous guidance of $310 million–$345 million. It expects Zejula revenues of $225 million–$235 million for fiscal 2018 compared to the previous estimate of $255 million–$275 million.
The enterprise value of Tesaro is $1.54 billion, and its enterprise-value-to-revenue ratio is 5.17x. Its price-to-sales ratio is 5.05x. Its current ratio, a metric of how effectively a company can meet its short-term obligations, stands at 4.10x. In comparison, the current ratios of its peers BioMarin Pharmaceutical (BMRN), Clovis Oncology (CLVS), Ironwood Pharmaceuticals (IRWD), and AbbVie (ABBV) are 2.8x, 10.0x, 2.9x, and 0.80x, respectively.