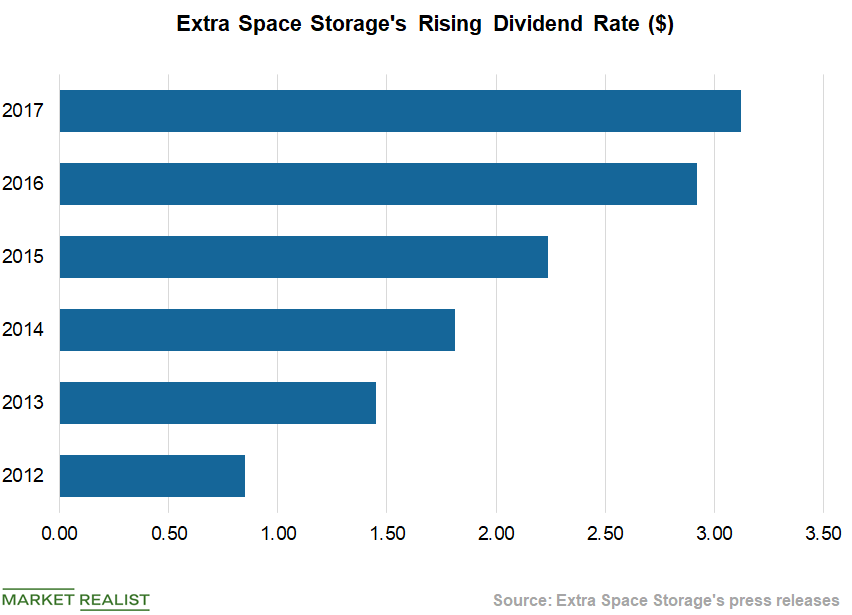 Extra Space Storage Continues to Enhance Shareholder Wealth
Increasing dividends
Since its conversion to an REIT in 2004, Extra Space Storage (EXR) has paid regular quarterly cash dividends to its shareholders. In the last five years, its dividend payment has increased drastically from $0.85 per share in 2012 to $3.12 in 2017, representing a CAGR (compound annual growth rate) of 29.7%.
In June, the company raised its quarterly dividend per share by 10.3% to $0.86, from $0.78 paid in June 2017. Extra Space has maintained its dividend payout ratio (dividend payment as a percentage of funds from operations) of 70% since 2012.
Article continues below advertisement
The company has significantly enhanced shareholder wealth in the last five years. But there was a time when it had to lower its dividend payments. Since the self-storage industry's performance largely depends on the health of the economy, it had to bear the brunt of the 2008–2009 economic recession. During the first quarter of 2009, the company's occupancy rate plunged to 81%.
The company had to skip the dividend payments in the second and third quarters of 2009. It started paying dividends again in Q4 2009 but reduced the amount to $0.13 per share from $0.25 paid in Q1 2009. It cut it more to $0.10 in Q1 2010 and maintained it throughout the year. In December 2012, it regained its previous high of $0.25 per share.
Dividend yield compared to its peers
Despite a 70% dividend payout ratio, Extra Space has the lowest dividend yield compared to its competitors in the self-storage REIT space. At current market prices, the company's dividend yield is 3.67%, while its competitors Public Storage (PSA), CubeSmart (CUBE), Life Storage (LSI), National Storage (NSA), and Global Self Storage (SELF) have yields of 3.7%, 3.9%, 4.1%, 4.1%, and 6.4%, respectively.
Extra Space and its above peers make up ~19% of the Pacer Benchmark Industrial Real Estate SCTR ETF (INDS).