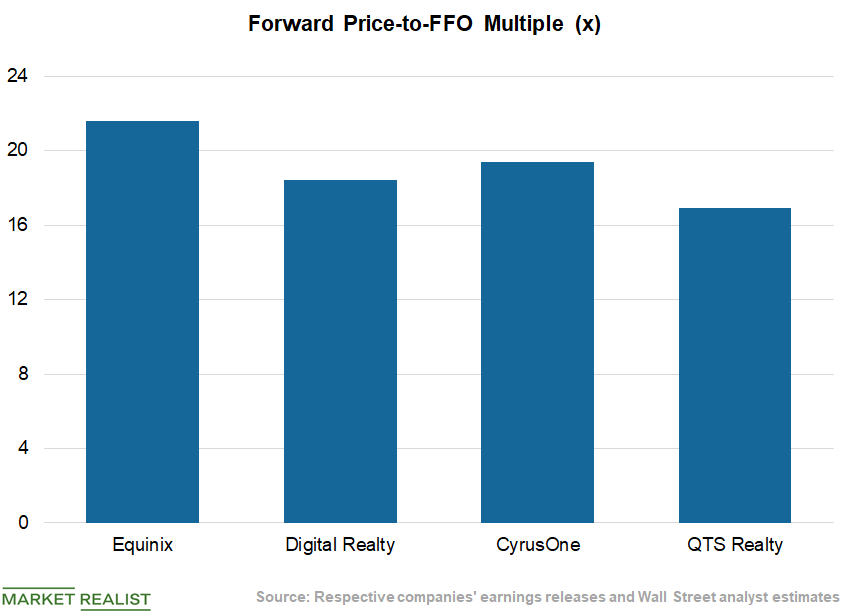 Assessing Equinix's Valuations against Its Competitors
By Anirudha Bhagat

Nov. 20 2020, Updated 12:06 p.m. ET
Price-to-AFFO ratio
Price-to-FFO (price-to-adjusted funds from operations) is the best multiple to measure a REIT and find out where it is overvalued or undervalued against its peers or competitors. The implications of price-to-AFFO multiple are similar to that of the PE (price-to-earnings) ratio.
Equinix (EQIX) currently trades at a premium against its peers Digital Realty (DLR), CyrusOne (CONE), and QTS Realty (QTS) based on its TTM (trailing-12-month) price-to-AFFO multiple. Equinix has a TTM price-to-AFFO ratio of 22.6x, while its competitors Digital Realty, CyrusOne, and QTS Realty trade at multiples of 19.1x, 19.5x, and 16.1x, respectively.
Equinix is also trading at a premium based on Wall Street's 2018 AFFO expectations. The company has a forward price-to-AFFO multiple of 21.6x, while its peers Digital Realty, CyrusOne, and QTS Realty have multiples of 18.4x, 19.4x, and 16.9x, respectively.
Article continues below advertisement
EV-to-EBITDA multiple
The EV-to-EBITDA (enterprise value-to-earnings before interest, taxes, depreciation, and amortizations) multiple is another widely used multiple for valuing data center REITs. This industry has a high level of debt and operating leases, as well as huge depreciation and amortization amounts on its books. The EV-to-EBITDA multiple neutralizes these factors and is helpful in comparing two REITs with different capital structures as well as distinct asset classes.
Equinix currently trades at a TTM EV-to-EBITDA of 21.4x, which depicts a premium to its close competitors' multiples. Digital Realty's multiple is 21.3x, and QTS Realty's multiple is 18.2x. However, it trades at a discount to CyrusOne, which has a TTM EV-to-EBITDA multiple of 21.7x.
Based on market capitalization, Equinix is the world's largest data center REIT with a market value of $35.2 billion. The next four spots are held by Digital Realty, CyrusOne, CoreSite, and QTS Realty with market cap levels of $25.3 billion, $6.1 billion, $5.6 billion, and $2.5 billion, respectively.
Looking at Equinix's global expansion and acquisition strategies, which are already paying off in the form of incremental revenues and higher profitability, the company's prospects look bright and appear to justify its premium valuation against most of its peers.
The five data center REITs mentioned above comprise ~28.0% of the Pacer Benchmark Data & Infrastructure Real Estate SCTR ETF (SRVR).