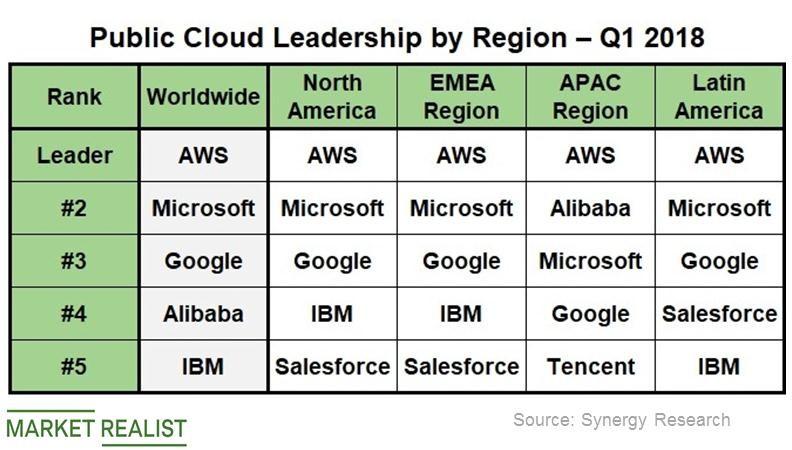 Why IBM's Cloud Vendor Ranking Is Sliding
IBM now ranks fifth
IBM's (IBM) ranking among cloud vendors is sliding, and it turns out Alibaba (BABA) and Alphabet's (GOOGL) Google may have played a role in its repositioning. In its new report on cloud vendors, Synergy Research indicates that Alibaba has ousted IBM to become the world's fourth-largest cloud company by market share.
At one point, IBM placed among the top three cloud companies, alongside Amazon (AMZN) and Microsoft (MSFT). IBM's slide started with Google surging to displace it as the world's third-largest cloud vendor.
Article continues below advertisement
Article continues below advertisement
Multi-cloud strategy rattling incumbents
Google and Alibaba have benefited from companies' multi-cloud strategies, where they buy cloud services from different providers. As a result, we've seen companies such as Apple, Spotify (SPOT), and Twitter (TWTR) shift some of their workloads from Amazon's cloud to Google's. In contrast, these strategies haven't helped early cloud leaders such as Amazon, which, despite being the top cloud vendor, is struggling to grow its market share. While Alibaba started out by selling cloud services to Chinese companies, it has since expanded to selling to American and European companies, thereby stepping up competition with early global vendors such as IBM.
Alibaba's growth slows
The cloud market continues to expand and could eventually accommodate many successful players. IBM's cloud business grew 20% YoY (year-over-year) in the first quarter, while Amazon, Microsoft, and Alibaba grew their cloud revenue by 49%, 93%, and 103% YoY, respectively. However, Alibaba's robust cloud growth is cooling as the cloud market expands. Its cloud revenue currently stands under $1.0 billion per quarter, while IBM's cloud business brought $4.2 billion in revenue in the first quarter.