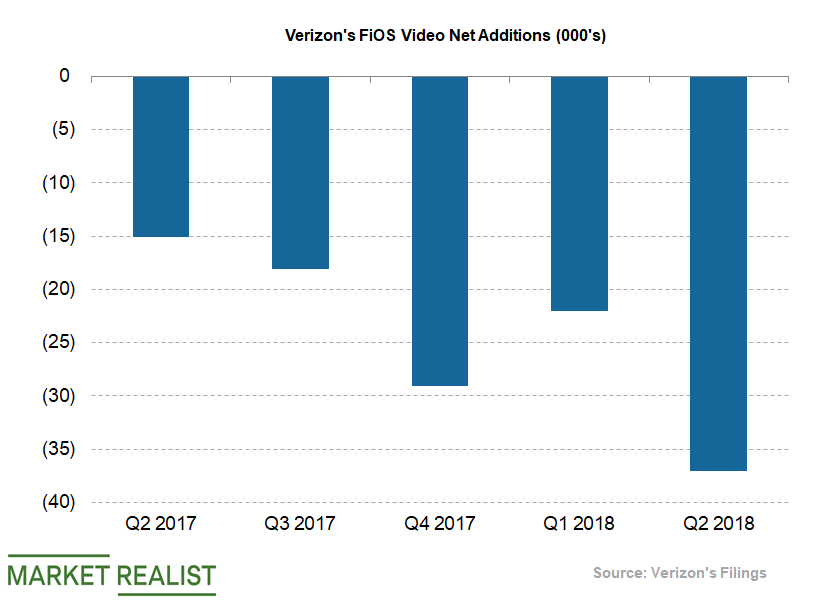 Verizon Lost Fios Video Customers in Q2 2018
Fios video customers 
Verizon's (VZ) Fios is a fiber optic network service that provides video, Internet, and voice services to its users. Fios has been contributing largely to Verizon's wireline unit revenues. Lately, Verizon has been struggling to add or retain traditional video customers due to intense competition from OTT (over-the-top) video streaming players.
In the second quarter, Verizon added 43,000 Fios Internet customers, but the company saw a net loss of 37,000 Fios video customers. Verizon has been facing a net loss of Fios video customers for the past several quarters. Customers continue to migrate from traditional linear TV to OTT offerings at competitive prices. At the end of June, Verizon had 6.0 million Fios Internet connections—compared to 4.6 million Fios Video connections.
Article continues below advertisement
Article continues below advertisement
OTT market
OTT video streaming services provide content directly to users over the Internet. Users tend to prefer more flexible and modestly priced online video services compared to higher-priced traditional cable or satellite connections.
Currently, Netflix (NFLX), Amazon's (AMZN) Prime Video, and AT&T's (T) DirecTV Now are formidable players in the video streaming market. In the second quarter, Netflix added 5.15 million customers worldwide. Meanwhile, AT&T added 342,000 DirecTV Now subscribers in the second quarter. Recently, Amazon stated that it had more than 100 million Prime members, which includes access to its streaming service.