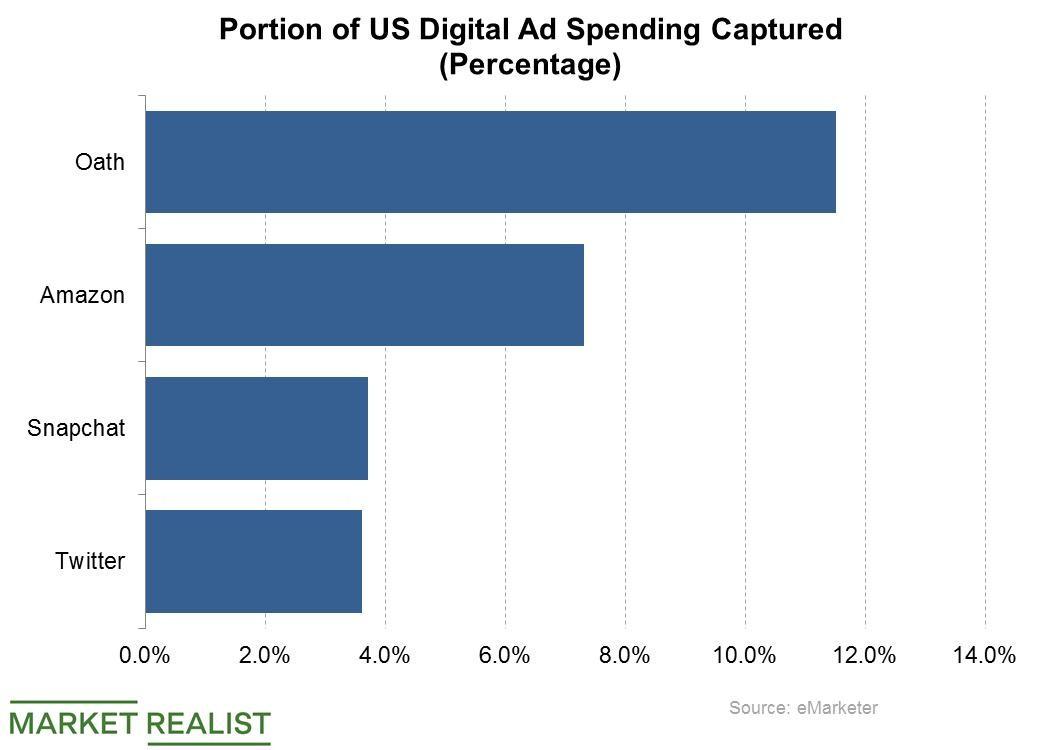 Verizon Is Positioning Itself for a Digital Future
<p>In the first half of 2018, Verizon (VZ) made several moves aimed at enabling it to lead the 5G (fifth-generation) network rollout race.</p>
Oath to capture 11.5% of digital ad spending
In the first half of 2018, Verizon (VZ) made several moves aimed at enabling it to lead the 5G (fifth-generation) network rollout race, boost customer trust and retention, and expand in the digital media and advertising market.
In June, the company appointed Hans Vestberg as its next CEO, who will steer it in the digital world. Outgoing CEO Lowell McAdam led Verizon in purchasing AOL and Yahoo, culminating in the company launching a media and advertising division known as Oath.
According to eMarketer, Oath is poised to capture 11.5% of US digital advertising dollars in 2018. Amazon (AMZN), Twitter (TWTR), and Snapchat (SNAP) are expected to capture 7.3%, 3.6%, and 3.7% of US digital advertising budgets in 2018, respectively.
Article continues below advertisement
Article continues below advertisement
Verizon is focused on 5G and digital content
Although we've seen Verizon buy media assets, and it was said to be one of the companies that showed interest in buying 21st Century Fox's (FOX) (FOXA) operations, the company recently said that it had no interest in becoming a traditional media company. Instead, Verizon wants to focus on building a 5G network and investing in digital content.
Building customer trust
Beyond investing in a stronger network and more digital content, Verizon is also investing in building customer trust in its services, which could help it in boosting customer retention. As part of its efforts to build customer trust, Verizon recently moved to stop selling its customers' location data to third parties. Its rivals AT&T (T), T-Mobile (TMUS), and Sprint (S) followed suit, restricting third-party access to their customers' data.
Verizon shares fell 5.0%, and the S&P 500 Index rose 1.7% in the first half.