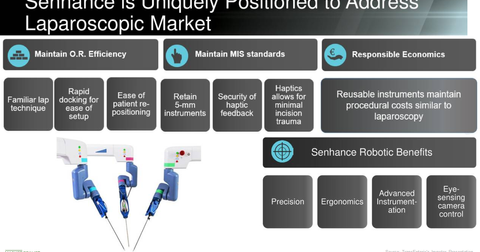 Senhance Expected to Boost TransEnterix's Revenue beyond 2018
By Daniel Collins

Updated
Recent developments
In June, TransEnterix (TRXC) submitted its 510(k) filing to the FDA for approval of additional Senhance system instruments. including 3 mm (millimeter) diameter instruments.
The approval would permit the use of Senhance for micro-laparoscopic surgeries and help surgeons make very small incisions that will be nearly scarless.
In the United States, Senhance has been approved by the FDA for laparoscopic gynecology, colorectal, inguinal hernia, and cholecystectomy surgical procedures.
In May, the FDA cleared TransEnterix's 510(k) for expansion of the use of Senhance for laparoscopic inguinal hernia and cholecystectomy surgery.
Studies estimate that 1.2 million laparoscopic cholecystectomies and 760,000 inguinal hernia surgeries are performed in the United States each year. With the approval for expansion of the indication of Senhance, the total addressable population for Senhance in the United States grew significantly.
Article continues below advertisement
In the first quarter of 2018, TransEnterix received the Taiwan Food and Drug Administration's approval for the Senhance system. The company also sees great prospects for the device in Japan. TransEnterix has begun clinical cases in Japan with the Senhance system and also received positive feedback from clinicians. After the United States, Japan is the second-largest robotics market in the world.
Sales of Senhance
In May, LSU[1. Louisiana State University] Health purchased TransEnterix's Senhance surgical system and installed it at its University Medical Center in New Orleans.
TransEnterix sold two Senhance systems in the first quarter of 2018. In June, it sold another Senhance system to a hospital in the EMEA (Europe, the Middle East, and Africa) region. In the second quarter, it sold four Senhance systems—three in the EMEA region and one in the United States.