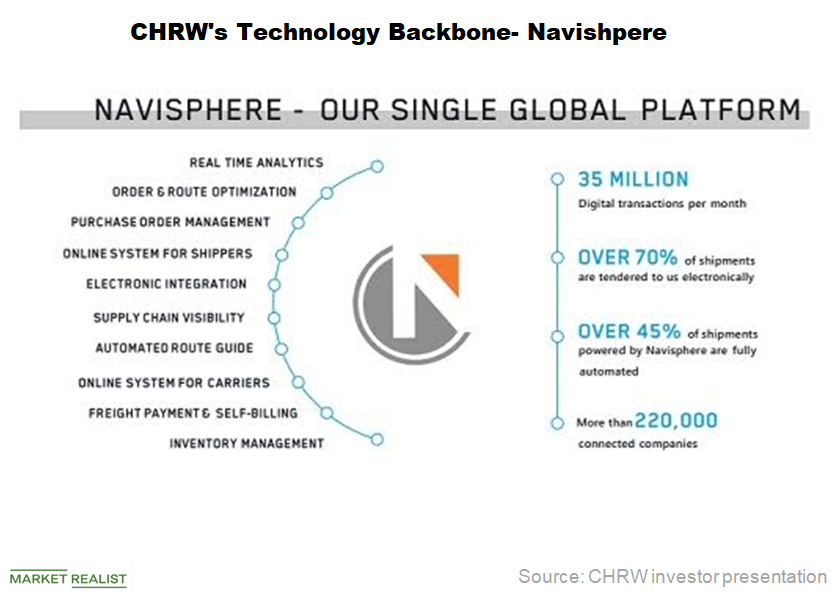 Navisphere: C.H. Robinson's Technology Backbone
C.H. Robinson's technology platform
C.H. Robinson Worldwide's (CHRW) Navisphere is a proprietary global technology platform that matches customer requirements with supplier capabilities to fit customers' needs. It was first introduced by the company in 2012. This platform allows CHRW customers to communicate with its supplier network across different currencies, languages, and continents.
Article continues below advertisement
Article continues below advertisement
How Navisphere works
Navisphere uses business analytics in real time to offer different services, including order and route optimization, purchase order management, supply chain route visibility, automated route guides, a shipper and carrier system, inventory management, freight payment, and self-billing. The platform's products include Navisphere Vision, Navisphere Carrier, and Navisphere Driver. Let's look at each of these products in detail.
Navisphere Vision: This web-based product allows customers to view freight information across all services and modes, including shipment contents and status, disruptions, and estimated time of arrival. This product also allows customers to manage their supply chain and identify its inefficiencies through a performance scorecard and intelligent notifications.
Navisphere Carrier: This web-based platform enables contract carriers to access available freight, upload documentation, track receivables, and do online checks. A mobile version of the product was released by the company in 2016.
Navisphere Driver: This mobile application provides load status automation capabilities to drivers, offering them the option to complete in-transit calls, stop updates, and upload documentation for initiating payments.
Other players in the logistics and transportation space using proprietary platforms include United Parcel Service (UPS) and FedEx (FDX). While FedEx uses Roads, a route-planning technology, UPS uses ORION[1. On-Road Integrated Optimization and Navigation] and XPO Logistics (XPO) uses Rail Optimizer for its intermodal services.
A look at XTN
The SPDR S&P Transportation ETF (XTN) has an exposure of 2.5% to CHRW, and 44.2%, 26.7%, and 13.0%, respectively, to the airline, trucking, and railroad sectors. Next, we'll look at CHRW's stock price trends in the last few years.