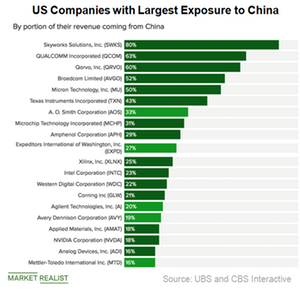 Micron Stock Is Vulnerable Due to Chinese Exposure
Micron's exposure to China
Micron Technology (MU) and stocks related to the memory market and China (FXI) fell due to the news that the chipmaker is facing a temporary injunction in China. While Micron hasn't confirmed the news, its shareholders are cautious. They fear that the strong memory cycle will end soon. The memory market demand has become more diversified, which has mitigated the impact of cyclicality and stabilized the demand.
However, Micron is sensitive to any news related to China. Micron earns 50% of its revenues from China. The stock fell 7% on June 25 when fears of the US-China trade war reignited. On July 3, the stock fell 5.5% following the news of a potential injunction order in China.
Article continues below advertisement
China and the memory market
China has been looking to become self-sufficient in semiconductor manufacturing, especially memory chips. However, China doesn't have intellectual property. China's Tsinghua Unigroup tried to acquire Micron in 2015 and a stake in Western Digital (WDC) in 2016. US authorities blocked the deals due to national security concerns.
In May, China's State Administration for Market Regulations launched a probe on DRAM (dynamic random-access memory) makers Samsung (SSNLF), SK Hynix, and Micron for fixing DRAM prices. Now, a Chinese court has banned the sale of Micron's allegedly infringed products in China. The injunction could be another attempt by China to acquire memory IP.
US-China trade tensions
The injunction escalates the US-China trade tensions that started with President Trump looking to reduce the trade deficit with China and protect the transfer of critical technology and IP. Micron could be considered as a "pawn" in the trade war.
Micron updated the legal and risk section in its latest quarterly filing. Micron stated that it faces competition risk from China's significant semiconductor investment. Micron said, "The activities by the Chinese government may restrict us from participating in the China market or may prevent us from competing effectively with Chinese companies."
Check out all the data we have added to our quote pages. Now you can get a valuation snapshot, earnings and revenue estimates, and historical data as well as dividend info. Take a look!