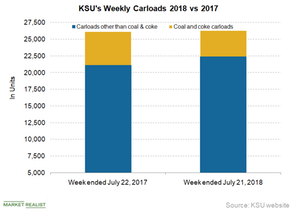 Kansas City Southern: Week 29's Lowest Gainer in Volume Growth
By Samuel Prince

Updated
KSU's carload traffic in Week 29
Kansas City Southern (KSU), the smallest US Class I railroad company, reported the lowest weekly gains in total rail traffic in Week 29. The company's 2.2% YoY (year-over-year) gain in the week was the lowest among the gains posted by all Class I railroad companies.
The company's carload traffic in Week 29 witnessed a marginal 0.6% YoY rise. KSU's carload volumes were 26,250 in Week 29, almost equal to its carloads in Week 29 of 2017. Compared to the 3.8% YoY growth reported by US railroad companies (IYJ) in Week 29, the smallest Class I railroad's carload traffic rise was much lower.
Article continues below advertisement
Kansas City Southern's railcars excluding coal (ARCH) and coke made up 85.3% of its total carload traffic in Week 29. Coal and coke railcars made up 14.7%. Carloads other than coal and coke expanded 6.1% YoY to ~22,400 units from ~21,100 units. Coal and coke carloads, however, contracted 22.7% YoY to ~3,900 railcars from 5,000 railcars.
Changes in KSU's carload commodity groups
The following commodity groups' volumes rose in Week 29:
grain
lumber and wood products (except furniture)
motor vehicles and equipment
iron and steel scrap
The following commodity groups' volumes fell in Week 29:
crushed stone, sand, and gravel
chemicals and allied products
stone, clay, and glass products
metals and products
KSU's intermodal traffic in Week 29
Kansas City Southern reported a 4.4% YoY rise in its Week 29 intermodal traffic. The company carried ~19,900 trailers and containers that week compared to 19,000 in the comparable period of the previous year. Containers, which dominate KSU's intermodal traffic mix, saw a 3.6% YoY volume rise. In Week 29, the company hauled ~19,500 containers compared to 18,800 in the previous year. Its trailer traffic increased by a robust 66.4% YoY to 356 trailers compared to 214.
In Week 29, Kansas City Southern's overall railcar traffic rose 2.2%, whereas railcar traffic rose 4.9% for all US railroad companies (GWR). In the next article, we'll review Canadian National Railway's (CNI) rail traffic trends.