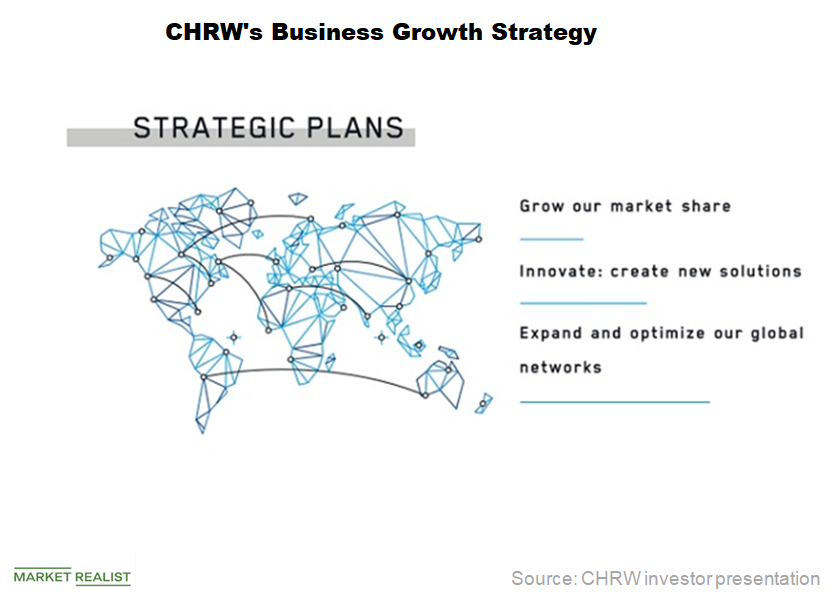 Inside C.H. Robinson's Competition and Growth Strategy
CHRW: A business snapshot
C.H. Robinson Worldwide (CHRW) is the largest third-party logistics provider in the world. In 2017, the company had total gross revenue of $14.9 billion, and it handled ~19 million shipments for its 120,000 customers. CHRW provides access to customers through 73,000 transportation providers.
The company has three business segments: NAST (North American Surface Transportation), Global Forwarding, and Robinson Fresh. We'll look at each of these segments in detail later in this series. CHRW's global network depends on its global technology platform, Navisphere, for operations. Navisphere is a key CHRW proprietary platform that matches customers' requirements with suppliers' capabilities and uses centralized resources to complete transactions.
Currently, C.H. Robinson has a low-single-digit market share and competes with various logistics (UPS) and trucking companies, freight forwarding companies, logistics carriers (EXPD), and property freight brokers.
Article continues below advertisement
Article continues below advertisement
CHRW's growth strategy
The three pillars of C.H. Robinson's growth strategy are growing its market share, evolving new services that are compatible with its businesses, and expanding its global network. The company intends to grow its market share for its truckload, less-than-truckload, ocean, and managed services and plans to expand its global network by establishing new offices and exploring new acquisition opportunities. CHRW has spent $1.3 billion on acquisitions since 2006.
The company intends to up its competitiveness through cross-selling its services and meeting customers' requirements. The Industrial Select Sector SPDR ETF (XLI), which has an exposure of 10.8% to the airline sector and 9.6% to the railroad (UNP) sector, invests 0.5% of its holdings in CHRW.