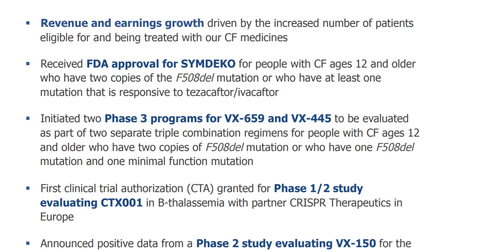 Could Symdeko Be Vertex Pharmaceuticals' Long-Term Growth Driver?
By Daniel Collins

Updated
Symdeko approved in Canada
In June, Health Canada approved Vertex Pharmaceuticals' (VRTX) Symdeko for the treatment of the underlying cause of cystic fibrosis in individuals over 12 years old who have two copies of the F508del mutation in the CFTR (cystic fibrosis transmembrane conductance regulator) gene or who have one copy of the F508del mutation and one mutation in another CFTR gene.
Health Canada's approval of Symdeko was based on data from the Phase 3 EVOLVE and EXPAND trials, which enrolled 744 individuals over 12 years old with cystic fibrosis and with two copies of the F508del mutation or one F508del mutation and another mutation assumed to be responsive to tezacaftor/ivacaftor.
Article continues below advertisement
In the clinical trials, cystic fibrosis patients receiving Symdeko demonstrated statistically significant improvements in lung function as assessed by absolute change from the baseline in ppFEV1 (percent predicted forced expiratory volume in one second). Symdeko remained well tolerated among patients in the trial.
About cystic fibrosis and Symdeko
Cystic fibrosis is a rare disease caused by a faulty or deleted CFTR protein due to mutations in the CFTR gene. In North America, Europe, and Australia, ~75,000 individuals are affected by cystic fibrosis.
In the first quarter, Symdeko generated revenue of $34 million. The FDA approved Symdeko for commercialization in the US market for the treatment of individuals 12 years and older with cystic fibrosis with two copies of the F508del mutation or with at least one mutation for which tezacaftor/ivacaftor is responsive.
Currently, Vertex Pharmaceuticals' launch of Symdeko in the US market is underway.
Vertex Pharmaceuticals is also conducting a clinical trial of Symdeko to evaluate its safety and efficacy in treating children from 6 to 11 years old. Vertex's Phase 3 trial for Symdeko for evaluation in children has completed enrollment. The label expansion of Symdeko is expected to boost its revenue growth significantly.
Some important drugs in use for the treatment of cystic fibrosis include Novartis's (NVS) Tobi, Gilead Sciences' (GILD) Cayston, and Roche's (RHHBY) Pulmozyme.