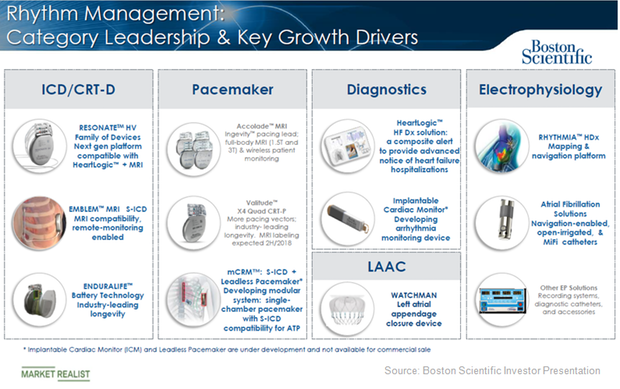 BSX Focuses on Advancing Its Cardiac Rhythm Management Portfolio
CRM research programs
Boston Scientific (BSX) has planned to evaluate the modular cardiac rhythm management (or CRM) approach by studying the efficacy of incrementally implanting pacemakers in patients who are already fitted with defibrillators yet require heart pacing support for bradycardia or bursts of antitachycardia pacing (or ATP).
Although Boston Scientific has been witnessing a low incidence of pacing conditions in patients implanted with subcutaneous implantable defibrillators (or S-ICD) in the UNTOUCHED study, the company still plans to study its leadless cardiac pacemaker, EMPOWER, in its modular CRM trials, which are set to start in the first half of 2019.
Article continues below advertisement
Article continues below advertisement
Boston Scientific expects the results from its UNTOUCHED trial, which is evaluating the number of inappropriate shocks that patients implanted with the EMBLEM S-ICD suffer in a period of 18 months, by 2020. The company has also completed the enrollment of trial subjects in its PRAETORIAN trial, which will compare the efficacy of S-ICD therapy with transvenous ICD therapy. Results from the PRAETORIAN trial are expected to be released by 2020.
Boston Scientific has enrolled its first patient in the PRAETORIAN DFT trial, which aims to study the possibility of avoiding defibrillation testing prior to implanting new patients with S-ICD.
The diagram above highlights Boston Scientific's key growth drivers in the rhythm management business in greater detail.
Improved access
According to the 2017 AHA/ACC/HRS Guideline for Management of Patients with Ventricular Arrhythmias and the Prevention of Sudden Cardiac Death, the use of S-ICD is a Class I (or strong) recommendation for patients who are eligible for the ICD implant, who are at a high risk of infection or suffer from low vascular access, or who do not need pacing. In addition to this need-to-use patient population, the guidelines have also provided a Class IIa (or moderate) recommendation for the use of S-ICD in all those ICD-eligible patients without a need for a pacing device or cardiac resynchronization therapy.
These updated guidelines have helped in expanding coverage for S-ICD, especially from private payers. While Medicare has always provided coverage for S-ICD consistent with its approved indications, currently all major commercial payers in the United States provide coverage for S-ICD, which extends to ~92% of commercial covered lives. Cigna (CI) and UnitedHealth Group (UNH) have also broadened their coverage for S-ICD.
In the next article, we'll the discuss growth prospects for the LUX-Dx insertable cardiac monitor and the WATCHMAN LAAC device in greater detail.