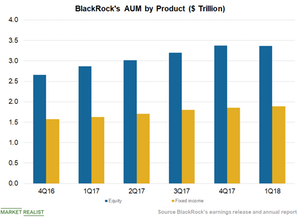 BlackRock's Diversified Offerings Can Benefit from Rate Hikes
By Robert Karr

Dec. 4 2020, Updated 10:53 a.m. ET
Faster rate hikes
The Federal Reserve gave an indication in June about faster rate hikes. The Fed is targeting two more rate hikes in 2018, taking the total to four. Another three rate hikes in 2019 and one rate hike in 2020 are expected. Currently, the Fed funds rate is 2.0%. With the current rate hike plan, it can increase to 3.5% by 2020.
For the first time since 2017, central bankers have sounded a word of caution on the trade wars. The global concerns about the trade wars have caused a correction in global equities and pushed Chinese stocks into a bear market trajectory. Central bankers can tap the brakes on reversing monetary policy if the trade wars cause a further slowdown in the global economy.
If the US markets remain less affected and the Fed goes ahead with its existing plan, Europe and Asia could find it more difficult amid weaker markets to raise rates. It would be beneficial for global markets if rates are hiked at a slower pace—at least in the next few quarters.
Asset managers (VFH) focusing on equities are expected to see a weaker performance of their managed assets due to a correction in global equities. State Street (STT), T. Rowe Price (TROW), and KKR (KKR) have seen weaker inflows than BlackRock (BLK) in the last few quarters.
Article continues below advertisement
Treasuries can make a comeback
In a rising rate scenario, investors withdraw funds from debt offerings due to an expectation of declining bond prices. However, in uncertain and volatile markets, fund flows tend to increase toward Treasuries due to safety preferences. Amid the trade wars and declining equities, investments in Treasuries have increased, resulting in lower spreads.
In the first quarter, BlackRock managed ~$1.9 trillion in fixed income offerings, up from ~$1.6 trillion in the first quarter of 2017. It managed ~$3.4 trillion in equities during the same period, which was flat sequentially and up from ~$2.9 trillion in the first quarter of 2017.