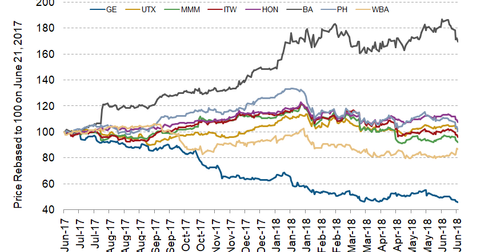 Why the Dow Jones Industrial Index Dropped General Electric
By Samuel Prince

Updated
Walgreens to replace GE in DJIA
On June 19, the S&P Dow Jones Indices issued a press release stating that Walgreens Boots Alliance (WBA) would replace General Electric (GE) in the Dow Jones Industrial Average (DJIA). Walgreens is a national retail drugstore chain in the United States. The replacement is slated to occur before trading begins on June 26.
Why GE got ejected from Dow Jones
David Blitzer, managing director and chair of the S&P Dow Jones Indices committee, stated, "General Electric was an original member of the DJIA in 1896 and a member continuously since 1907. Since then the US economy has changed: consumer, finance, healthcare and technology companies are more prominent today and the relative importance of industrial companies is less."
The Dow Jones Industrial Average is a price-weighted index. As a result, the price range of all of its 30 constituent stocks matters a lot. As discussed earlier, General Electric stock has fallen more than 55% in the last year, which resulted in GE stock's weight in DJIA declining below one half of one percentage point.
GE's comments
After losing its place in the Dow Jones, General Electric said, "We are focused on executing against the plan we've laid out to improve GE's performance. Today's announcement does nothing to change those commitments or our focus in creating a stronger, simpler GE."
Dow Jones is an index of industrial sector companies. However, there are companies from the tech, pharma, and retail sectors in the index. Once GE is no longer in the index, there will be only five industrial (XTN) companies left: 3M Company (MMM), Boeing (BA), Caterpillar (CAT), DowDuPont (DWDP), and United Technologies (UTX).
Stocks that have lost their place in DJIA have historically performed well in the subsequent year. GE investors will be keeping their fingers crossed.
Now the French government is after General Electric. We'll discuss the reason why in the next part of the series.