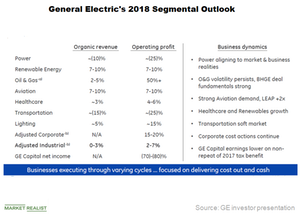 Why Fitch Lowered Its Rating on General Electric
By Samuel Prince

Updated
Fitch rating downgrade
On June 14, 2018, Fitch downgraded the long-term IDR (issuer default ratings) for General Electric (GE) and GE Capital to an "A" rating from an "A+" rating. Fitch has affirmed the short-term IDR at "F1." The agency's rating outlook is negative.
Why Fitch lowered its rating
Fitch believes that General Electric's cash flow and earnings will continue to be under pressure. The major reason for this is the underperformance in the GE Power business. The rating agency stated that GE has to evaluate its power (NEE) business portfolio and carry out substantial restructuring measures to lower the overall costs in that business.
Fitch further stated that General Electric's current portfolio-related actions could reduce its robust diversification. This diversification was an important element in Fitch's previous "A+" rating on the company. Fitch is also concerned about GE's huge net pension obligations of ~$29.0 billion. According to the rating agency, heavy dependence on commercial paper and factored receivables also led to GE's massive $90.0 billion-plus debt.
General Electric's balance sheet became feeble after the charges in GE Capital's insurance and WMC businesses. The diversified industrial giant faces considerable risks of contingent liabilities associated with the US FIRREA (Financial Institutions Reform, Recovery, and Enforcement Act) investigation of WMC businesses. The weaknesses in the GE Capital business may require the parent to infuse more cash into it in the future. Fitch believed that until the industrial giant is done with its restructuring, its financial performance remains a matter of concern.
Fitch's negative outlook
Fitch's negative outlook on General Electric highlights concerns about GE's free cash flows. GE's Renewable segment is seeing solid pricing pressure, which could subdue the vertical's growth. The rating agency stated it is also concerned about the loss of earnings and cash flow from asset sales. Investors should keep a watch on the company's restructuring program in the Power segment pursuant to industry overcapacity and consumers' changing preference for renewable energy over conventional energy.
The Vanguard Industrials ETF (VIS) has the second highest exposure to General Electric at 4.1% among all the ETFs that hold the company's stock. Industrial majors such as Boeing (BA), 3M (MMM), and Union Pacific (UNP) are included in the top holdings of VIS with weights of 6.7%, 3.9%, and 3.8%, respectively.
Will GE make a big announcement soon? We'll discuss this possibility in the next article.