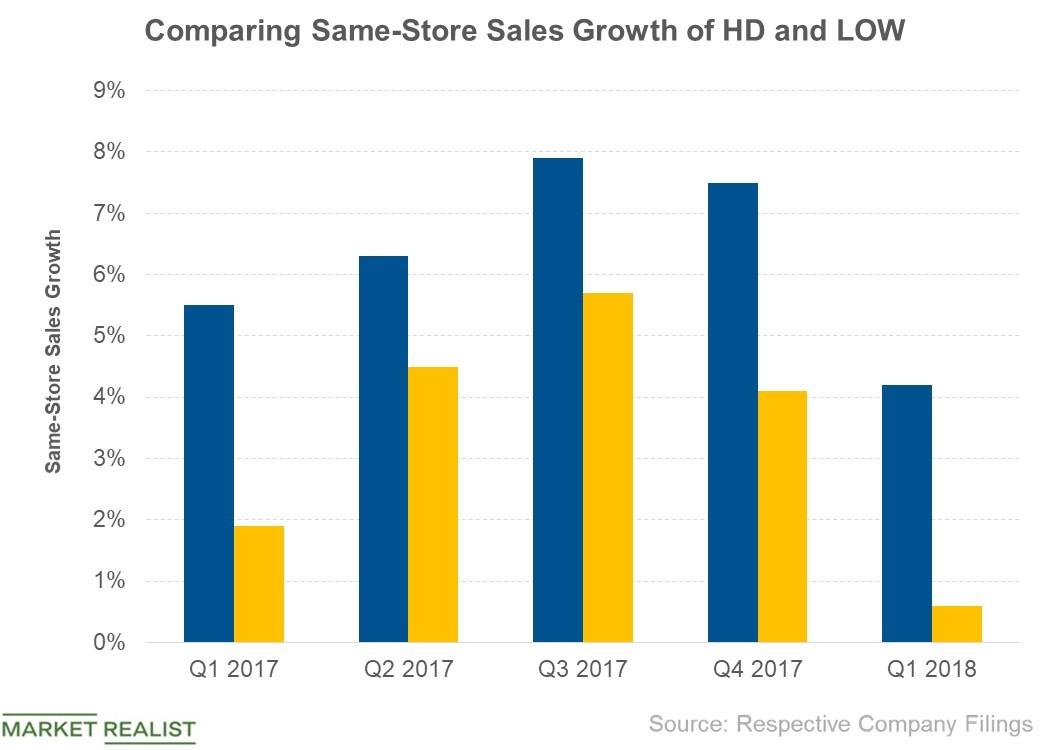 Why Both HD and LOW Failed to Meet Growth Estimates in Q1 2018
Home Depot's SSSG
In the first quarter, Home Depot (HD) posted SSSG (same-store sales growth) of 4.2%, lower than analysts' consensus expectation of 5.4%.
The company's management blamed extreme winter weather during the quarter for its lower-than-expected SSSG. Home Depot's SSSG was 5.6% in February, 5.9% in March, and 2.2% in April.
Home Depot's SSSG was driven by a 5.8% increase in average ticket size. However, a fall in its number of transactions lowered the company's SSSG by 1.5%. During the quarter, appliances, electrical, and lumber posted double-digit SSSG. The investments made by Home Depot in creating an interconnected shopping experience improved customer satisfaction and conversion and increased sales. The sales in the interior door, storage and organization, bath fixture, interior paint, door lock, ceiling fan, and window categories exceeded the company's average SSSG.
Article continues below advertisement
However, the garden category, which usually represents 15%–20% of the company's total first-quarter sales, posted negative SSSG due to extreme winter weather. In international markets, the company posted positive SSSG in Mexico, while its SSSG was negative in Canada due to unfavorable weather conditions.
Lowe's SSSG
During the quarter, Lowe's (LOW) posted SSSG of 0.6% compared to analysts' consensus estimate of 3.1%. The company's management blamed the prolonged winter, which led to less demand for outdoor products and lower SSSG, for the underperformance. Unfavorable weather conditions lowered the company's SSSG by 3.0%.
The company's SSSG was driven by a rise in average ticket size of 4.3%, which was partially offset by a fall of 3.7% in its transactions. On a monthly basis, Lowe's SSSG was 0.6% in February, 1.1% in March, and 0.1% in May.
During the quarter, categories with high exposure to professional customers, such as the indoor and appliance categories, posted strong sales. The company's investments in the enhancement of the customer experience, its implementation of services such as next-day delivery, and its facilitation of repairs and maintenance helped it post double-digit SSSG in appliances.
Internationally, Lowe's posted positive SSSG in both Mexico and Canada, with Mexico positing double-digit SSSG.
Comparably, during the same quarter, Williams-Sonoma (WSM) posted SSSG of 5.5%.
Next, we'll look at analysts' revenue expectations for these companies over the next four quarters.