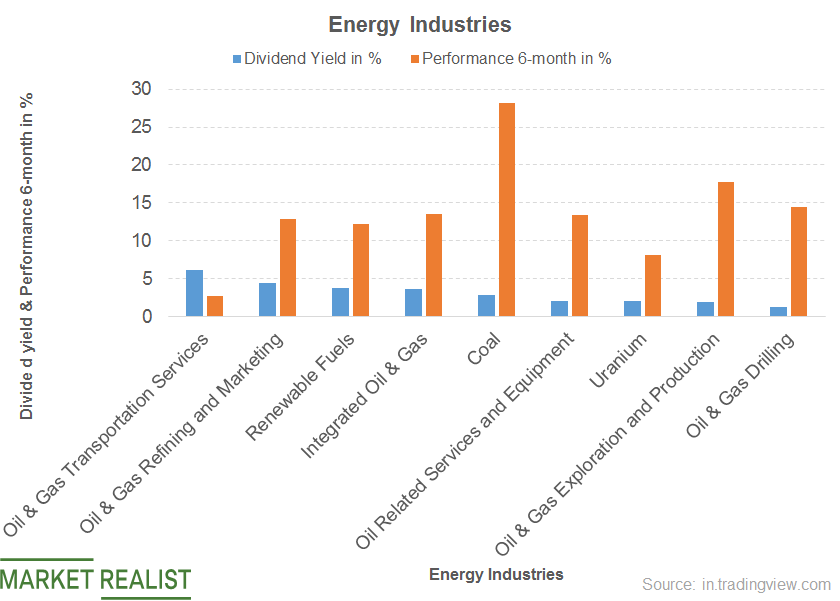 What's the Energy Sector's Dividend Yield?
By Amanda Lawrence

Jun. 8 2018, Updated 3:01 p.m. ET
Energy industries
Of all the energy industries, the oil and gas transportation services segment noted the highest dividend yield. The rest of the industries barring uranium, oil-related services and equipment, oil and gas exploration, and production and oil and gas drilling underperformed the dividend yields of the broad-based stock indexes.
Industries under this sector and top dividend payers under the respective industries include:
Article continues below advertisement
Renewable fuels, integrated oil and gas and oil and gas drilling industry prices ended in the red on June 1.
Going forward
The rapidly growing market presence for renewable and distributed energy triggered by technological advancement, falling costs, and growing preferences is a major boost for the sector. Further, rising cost efficiencies, unconventional oil drilling efficiencies, and growing demand for natural gas will likely continue to drive global imports and exports of oil and gas.
Dividend ETFs
The Schwab US Dividend Equity ETF (SCHD) offers a dividend yield of 2.6% at a PE of 20.3x. It has a 23% and 8% exposure to consumer non-cyclical and energy, respectively. The WisdomTree Emerging Markets Equity Income Fund (DEM) offers a dividend yield of 3.6% at a PE of 10.7x. It has 23% and 21% exposure to financials and energy, respectively.