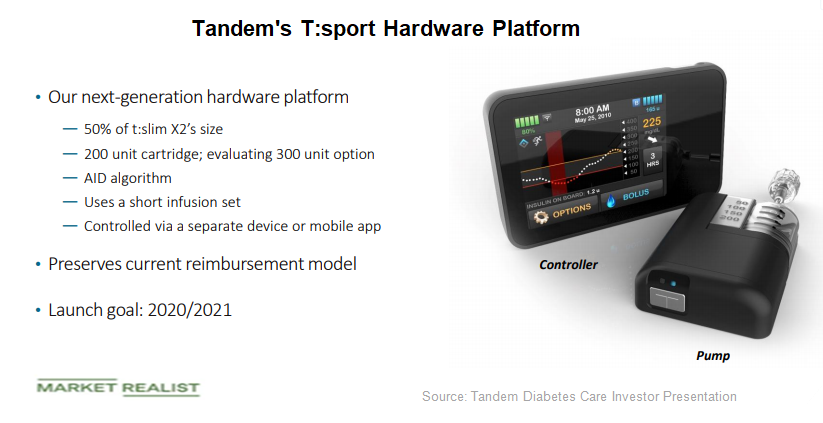 What to Expect from Tandem's Product Pipeline
T:slim X2 with control IQ
Tandem Diabetes Care's (TNDM) t:slim X2 with control IQ is its second generation AID system that is expected to integrate the t:slim X2 pump with the technology Tandem licensed from TypeZero Technologies and Dexcom's (DXCM) G6 sensor. TypeZero's technology will help the pump in increasing and decreasing basal insulin based on a person's predicted blood glucose levels and deliver automated correction boluses.
Article continues below advertisement
In its international diabetes closed loop (or IDCL) trial, Tandem is working with TypeZero and Dexcom on the integration of their technologies. Tandem expects a portion of the trial to make use of TypeZero's inControl AID algorithms. These algorithms are designed to adjust a person's insulin automatically based on data from a Dexcom G6 sensor. Further, Tandem plans to use these results in a premarket approval (or PMA) submission to the U.S. Food and Drug Administration (or FDA). Tandem aims to launch this product in H1 2019.
T:sport insulin delivery system
T:sport is Tandem's next-generation hardware platform, which is expected to reduce the size of the t:slim pump by 50% and is targeted at people who want more discretion and flexibility from their insulin pump. Tandem expects to begin trials of this product in 2019 and aims to launch it in 2020 or 2021.
Mobile health offerings
The company's Mobile health offerings include Tandem's mobile application under development, which is designed to make use of the capability of the Bluetooth radio to wirelessly upload pump data to t:connect, receive pump alerts and alarms, and integrate other health-related information. Tandem Diabetes Care aims to launch the first generation of this application in 2018.