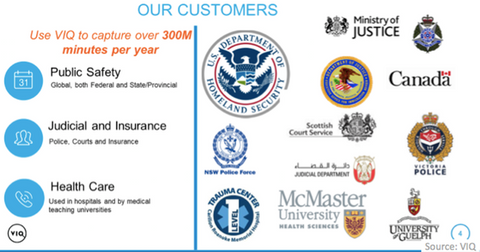 What Differentiates VIQ's AI Engine from the Competition
By VIQ Solutions

Updated
VIQ Solutions
AI and its capabilities have garnered significant attention.  VIQ recognizes the important need for human reasoning, creativity and human-to-machine collaboration to reach an acceptable level of accuracy, especially for government and businesses.
VIQ contends there is a critical need in B2B transcription to eliminate human transcriptionists and transition to transcription by AI. At least one more generational capability step is required. Towards this ability, VIQ created a critical component in its AI framework (patent process started) enabling mixing and matching AI components to provide the best solution possible (including human interaction) to its B2B industry-specific customers.
The VIQ aiFramework is designed to leverage all AI advancements delivered by Google, Amazon, Microsoft, Facebook (and any other company spending hundreds of millions on developing next generation AI models).
Our framework allows us to select the best tool on a job-by-job basis for each speaker. For instance, Microsoft has advanced supervised training models, where content is harvested for supervised training, client audio is routed through the Microsoft engine. Nuance has models optimized for phone recordings – those jobs can select and route the audio through the Nuance engine.
Market Realist
VIQ Solutions' (VQS.V) purely digital solutions save enterprises time and effort by eliminating the need to update, store, and search through huge audio and video records.
However, AI still requires some human collaboration for 100% accuracy. The amount required in the medial vertical is low compared to other markets.
Along with Nuance (NUAN) and other voice recognition AI technologies, nVoq's SayIt is a cloud-based speech recognition program, which VIQ uses. But these technologies are insufficient, on their own, for voice-to-text transcription, especially in the medical, legal, and government sectors.
As we've seen, what sets VIQ apart is how it trains its own AI using its extensive access to unstructured data.
As the image above shows, most of VIQ's customers are in fields that require data privacy on par with what VIQ's ultra-secure end-to-end service provides.