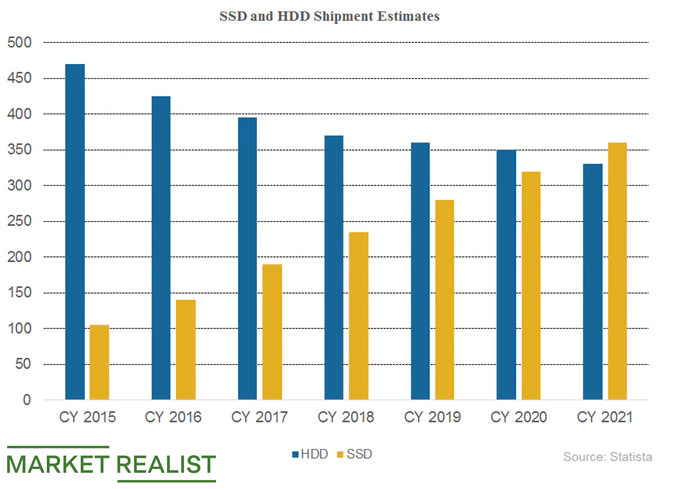 Seagate Is Banking on Enterprise Data Growth for Long-Term Sales
Transition to SSD hurt Seagate's top line
There has been an industry-wide transition in the storage space over the last few years. The technology shift from HDD (hard disk drives) to SSD (solid state drives) impacted several storage companies. Although Seagate (STX) is one of the top players in the HDD market along with Toshiba and Western Digital (WDC), it has a negligible share in the SSD market.
The SSD market is dominated by Samsung (SSNLF), Western Digital, Intel (INTC), Toshiba, and Micron (MU) with shares of 32.2%, 15.4%, 8.9%, 9.4%, and 9.7%, respectively. WDC had acquired SanDisk a few years back to penetrate the SSD space.
While SSDs are faster, they are also more expensive than HDDs. SSDs cost approximately $0.20 to $0.30 per GB (gigabyte), while HDDs cost around $0.03 per GB. In the above table, we can see that annual SSD shipments are estimated to exceed HDD shipments in 2021.
Article continues below advertisement
Article continues below advertisement
Enterprise sales accounted for 44% of revenue in Q3 2018
The shift to SSDs severely impacted Seagate's revenue. The company's revenue fell from $15 billion in fiscal 2012 to $10.8 billion in fiscal 2017. While operating profit fell from $3.2 billion to $1.5 billion, net income fell from $2.9 billion to $772 million in the same period.
However, the rapid growth in data centers and cloud computing verticals that use HDDs has enabled Seagate to boost revenue. Enterprise revenue for Seagate has risen from 36% of total revenue in Q3 2017 to 44% in Q3 2018.