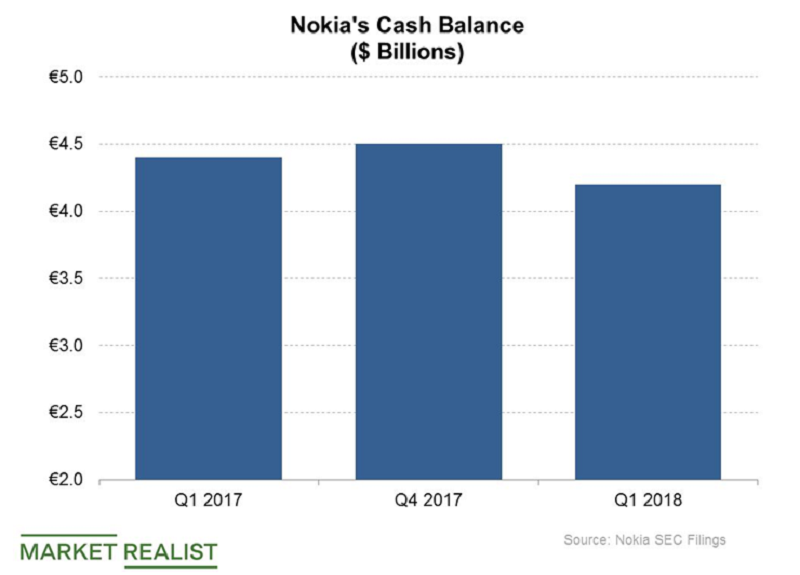 Nokia to Repurchase 500 Million Shares
Repurchased shares to be canceled
Nokia (NOK) intends to repurchase up to 500 million shares of its own stock in the coming months. The repurchases may be made to offset stock dilution resulting from the conversion of debt into equity and equity awards to employees.
The repurchased shares will be canceled, according to a company statement that also contains updates on resolutions from the recent annual shareholder meeting. The new repurchase program will be effective until November 2019, and it will replace the previous repurchase authorization granted a year ago.
Article continues below advertisement
790 million euros worth of Nokia shares repurchased last year
Nokia repurchased 790 million euros worth of its shares last year, with 130 million euros of the repurchase made in the fourth quarter. The company did not update its share repurchases in the first quarter. Companies such as Qualcomm (QCOM), Intel (INTC), and eBay (EBAY) also repurchase their shares as a way to return value to shareholders and offset the effects of stock dilution.
Qualcomm repurchased $200 million worth of its shares in the first quarter, while Intel repurchased $1.9 billion worth of its shares in the same period. eBay and Yelp (YELP) repurchased shares worth $1.0 billion and $33 million, respectively, in the first quarter.
Nokia authorized to issue 500 million shares
In addition to repurchasing and canceling up to 500 million shares between today and November next year, Nokia will also be able to issue up to 500 million new shares to raise additional capital if there's a need for equity fundraising. The company could also issue shares to meet employees' and directors' stock compensation plans.