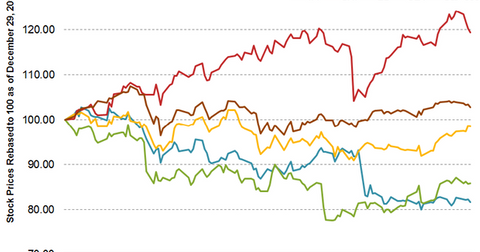 IFF's Stock Performance: Why Has Its Price Fallen?
By Peter Neil

Updated
IFF's performance so far in 2018
As of June 21, International Flavors & Fragrances (IFF) stock had fallen 18.3% year-to-date from a high of $156.55 in January to $124.67. Peers Sensient Technologies (SXT) and Clorox (CLX) have fallen 1.5% and 14.6%, respectively, while Estée Lauder (EL) has risen 19.4%. IFF also underperformed the S&P 500 (SPY).
Why did IFF stock decline?
The decline in IFF stock happened in two phases. After reaching an all-time high, the market became more volatile due to US-China trade tension, geopolitical fragility, and the view that the Fed could raise interest hikes more often than expected this year. As a result, IFF fell ~11.0%.
IFF was able to recover some of the lost ground as market sentiment improved. However, with its Q1 earnings release, IFF announced it has entered into an agreement to acquire Frutarom for $7.2 billion in cash and stock. This announcement did not impress investors and triggered a sell-off, resulting in the stock falling more than 10%. Investors still appear to be not in favor of this takeover. The stock's future direction now depends on IFF's Q2 earnings and proof that its acquisition of Frutarom will offer value to investors. It is estimated that the acquisition could bring synergies of $145 million in three years.