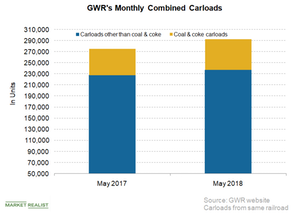 How Genesee & Wyoming's Combined Volumes Trended in May
By Samuel Prince

Jun. 18 2018, Updated 5:00 p.m. ET
GWR's rail traffic in May
On June 13, Genesee & Wyoming (GWR) released its rail traffic data for May. The company operates in three regions: North America, UK/Europe, and Australia. In the reported month, the company's combined volumes from same-railroad operations were ~292,400 carloads, up 6.3% YoY (year-over-year) from slightly over 275,200 units. On a reported basis, GWR's rail traffic was up 6.6% in May. Genesee & Wyoming's combined volumes on a quarter-to-May basis were up 4.9% YoY for same railroad operations.
Article continues below advertisement
Segment-wise share in May volumes
In May, GWR's North American traffic was 51.4% of total freight volumes compared with 48.1% in the same month last year, which denotes 3.3% growth in that region's share in May. Australia's share declined marginally by 0.9% to 17.5% from 18.4% in May. The United Kingdom and European operations' traffic share dropped 2.5% to 31% in the reported month compared with 33.5% in May 2017.
Segment-wise coal carloads
Coal (ARCH) accounts for a sizable share in terms of tonnage hauled by US railroads (XLI). Genesee & Wyoming's combined coal (BTU) and coke carloads went up 17% YoY in May. During the month, the railroad moved ~55,500 coal and coke carloads compared with ~47,400, which is a positive sign for the company.
Among all the operating regions, Australia accounts for the lion's share in GWR's coal and coke carloads. The region's share in combined coal (ARLP) and coke carloads fell 9.3% to 61% in May this year from 70.3% in the same month last year.
North America's share in coal and coke carloads went up 9.6% YoY to 36.2% in May from 26.6% in the last year. The share of the UK/European region in GWR's total coal and coke carloads fell 0.3% to 2.8% in May 2018 from 3.1% in the corresponding month last year.
In the next part of this series, we'll look at GWR's North American volumes in May.