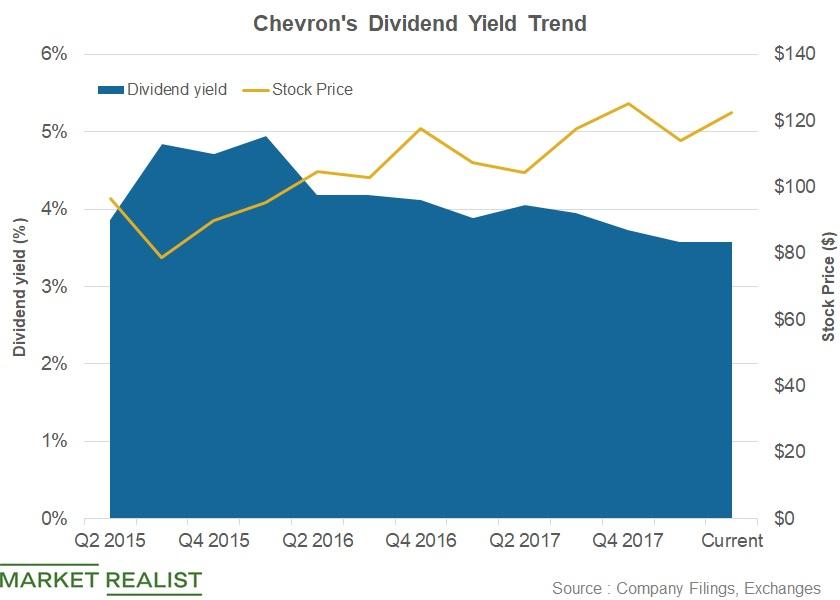 Chevron's 3.6% Dividend Yield Ranks Sixth with High Valuations
Chevron's dividend yield
Chevron (CVX) is the sixth stock on our list of the top eight dividend-yielding stocks. The company's market cap of $234 billion makes it the third-largest company of the eight companies we're covering in this series.
Chevron's dividend yield currently stands at 3.6%. In the current quarter, it paid a quarterly dividend of $1.12 per share. It has paid dividends consistently in the past three years, and its dividends have risen in that period. Three years ago, Chevron made a quarterly dividend payment of $1.07 per share. The stock rose 27% in the past three years.
Article continues below advertisement
Article continues below advertisement
Valuations
Chevron trades at a forward PE ratio of 14.9x, which is higher than the peer average of the eight integrated energy stocks. It also trades at a forward enterprise-value-to-EBITDA of 6.3x, which is above the peer average of 5.4x. It's the second stock of the top eight that has both its valuation matrixes trading above the peer averages. The first one is ExxonMobil (XOM), which we covered earlier in this series.
In the first quarter, Chevron's earnings surpassed Wall Street analysts' estimate. It reported earnings of $3.6 billion compared to $2.7 billion in Q1 2017. The increase in earnings year-over-year was due to the rise in upstream earnings, partially offset by the fall in downstream earnings. Its first-quarter earnings included $129 million of foreign exchange gain. For more on that, please refer to Chevron's 1Q18 Earnings Increased, Stock Rose.
Chevron has been witnessing steady improvement in its financial position. It has the second-best debt position in the industry. Its cash flow position improved in the first quarter. Chevron also has a healthy, expanding, and diverse upstream portfolio and an advantaged downstream portfolio.
Chevron stock has a higher PE ratio and a lower dividend yield. BP (BP), Royal Dutch Shell (RDS.A), and Total (TOT) have higher dividend yields and lower PE ratios. We looked at that in the first part of this series.
In the next part, we'll see which company is second-to-last in terms of dividend yield.