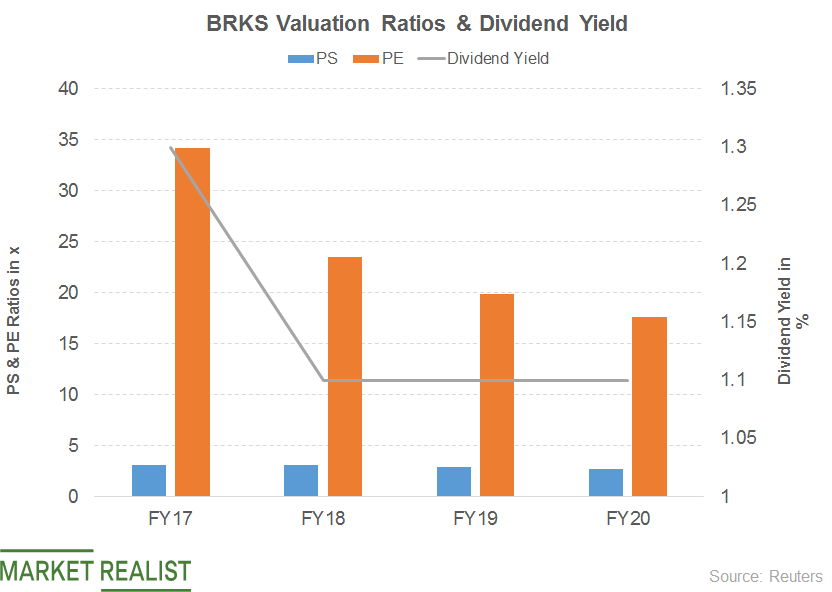 A Look at Brooks Automation and Its Valuations
By Amanda Lawrence

Nov. 20 2020, Updated 5:25 p.m. ET
Brooks Automation: Valuations, revenue, EPS
Brooks Automation (BRKS) has missed three consensus revenue estimates and two consensus EPS estimates in the last 20 quarters. Its revenue has grown at a five-year CAGR (compound annual growth rate) of 7.2%. Its EPS has a five-year CAGR of -15%.
It has a price-to-sales ratio of 3.7x compared to the sector at 2.6x and the S&P 500 at 2.2x. Its PE ratio of 40.9x compares to the sector and the S&P 500 at 59.0x and 22.1x, respectively. It has a dividend yield of 1.2% compared to the sector and the S&P 500 at 1.1% and 2.3%, respectively.
BRKS stock has risen 52.5% year-to-date.
Article continues below advertisement
What contributed to the valuations?
In 2018, Brooks Automation has made acquisitions, released its first half of the year results, and launch a biorepository.
The company acquired Tec-Sem Group for $16 million in April. It's expected to drive the company's contamination control solutions, thereby strengthening its large IC (integrated circuit) manufacturer customer base.
It completed the acquisition of BioSpeciMan, a Canadian biorepository, for $5 million in April. The acquisition is expected to drive Brooks Life Sciences service offerings.
The company recorded a 20% revenue growth in the first half of this year, driven by products and services. The vacuum automation portfolio of the Semiconductor Solutions Group and Brooks Life Science drove the growth. Its EPS grew 38% during the period.
The company announced the launch of a 21,000-square-foot biorepository in Cleveland's Fairfax neighborhood in May. It is expected to drive researchers' study of human tissue samples and advance personalized medicine.
AI ETFs
The First Trust Nasdaq Artificial Intelligence and Robotics ETF (ROBT) offers a dividend yield of 0.2%. It has 64% exposure to the technology sector. The iShares Edge MSCI Multifactor Technology ETF (TCHF) offers a dividend yield of 0.8% at a PE ratio of 22.5x. It has 100% exposure to the technology sector.