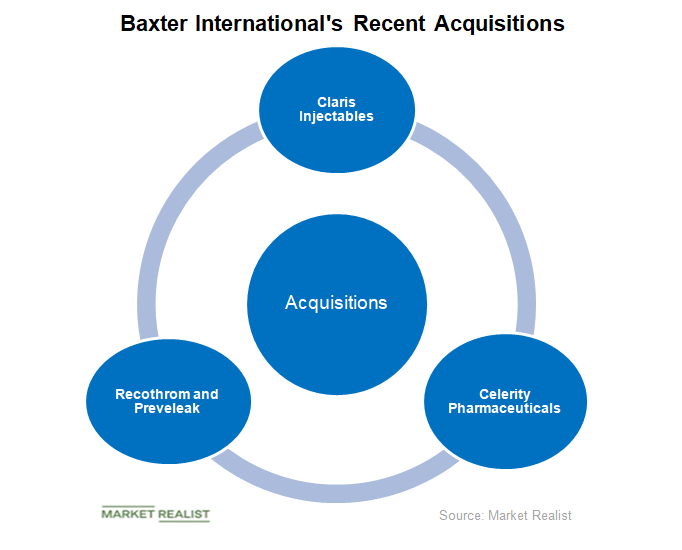 A Close Look at Baxter International's Acquisitions
Acute therapy sales
Sales from Baxter International's (BAX) Acute Therapies rose 22%, from $106 million in Q1 2017 to $129 million in Q1 2018 on the back of higher demand for Baxter's CRRT (continuous renal replacement therapies) systems. An intense flu season contributed seven points to this growth in the first quarter.
Article continues below advertisement
Article continues below advertisement
Recent acquisitions: Claris Injectables
In July 2017, Baxter International acquired Claris Lifesciences' subsidiary Claris Injectables for a cash consideration of $629 million. Through this acquisition, Baxter gained capabilities in the production of essential generic injectable medicines such as anesthesia and analgesics, renal, anti-infectives, and critical care in bags, vials, and ampoules. In the first quarter, the acquisition contributed $36 million to Baxter's sales.
Recothrom and Preveleak
In March, Baxter acquired two hemostat and sealant products from Mallinckrodt: Recothrom and Preveleak. Recothrom is the first and only stand-alone recombinant thrombin. Preveleak is a surgical sealant used in vascular reconstruction. Baxter made an upfront payment of $148 million for the acquisition. Baxter is responsible for technology transfer milestone payments and royalty payments on revenues up to $14 million as of the acquisition date.
Celerity Pharmaceuticals
In the first quarter of 2018, Baxter acquired rights to bivalirudin and dexmedetomidine for $37 million and $35 million, respectively, from Celerity Pharmaceuticals. Baxter entered into an agreement with Celerity in 2013 to develop certain acute care generic injectable premix and oncolytic molecules through regulatory approval.
Celerity took responsibility for these molecules, and Baxter is obligated to purchase the individual product rights from Celerity if it receives regulatory approval. In 2017, 2016, and 2015, Baxter paid $20 million, $23 million, and $14 million, respectively, for the acquisition rights to various molecules.
In the next part of the series, we'll analyze Baxter International's financial performance.