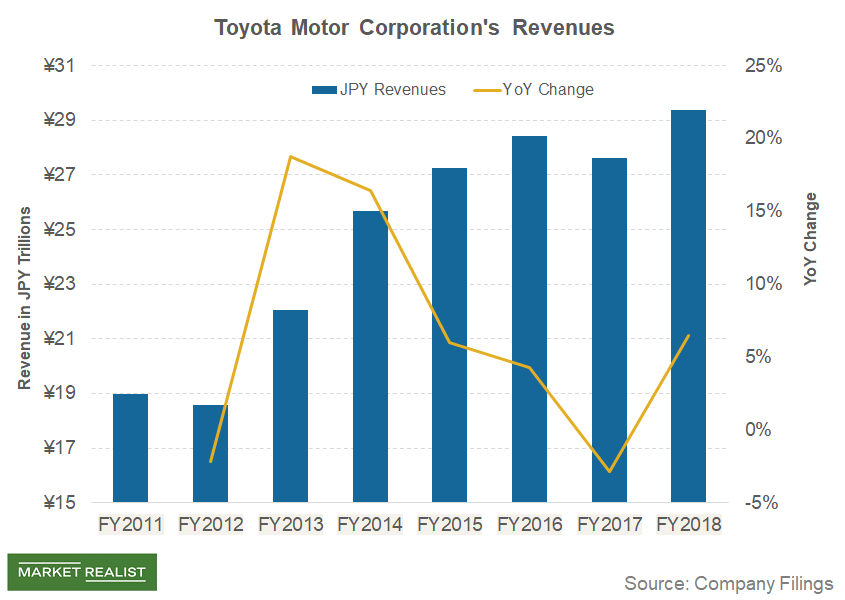 What Factors Boosted Toyota's Fiscal 2018 Revenue?
Toyota Motor
In 2017, Toyota Motor (TM) was the third-largest automaker by volume in the world after Renault-Nissan Alliance and Volkswagen (VLKAY).
In its fiscal 2018, the company's consolidated vehicle sales stood at 8.96 million units, nearly flat with a minor drop of 0.1% compared to the 8.97 million units it sold in fiscal 2017. Now, let's find out how Toyota's revenue shaped up in fiscal 2018.
Article continues below advertisement
Toyota's fiscal 2018 revenue
Despite its nearly flat consolidated vehicle sales, Toyota reported a handsome increase of 6.5% in its fiscal 2018 global revenue, which stood at 29.4 trillion Japanese yen. Toyota reported net revenue of 27.6 trillion yen in fiscal 2017. Favorable currency movements during the fiscal year were one of the primary drivers of this positive growth in Toyota's revenue.
Note that being a Japanese automaker, Toyota reports its earnings in yen. Therefore, investors should primarily pay attention to the company's financial figures in yen to get a clearer picture of the existing trend in its financials. The average exchange rate of the yen was 111 per US dollar in fiscal 2018 compared to 108 per dollar in fiscal 2017.
During fiscal 2018, the yen witnessed weakness against a basket of currencies, including the US dollar. Because of this, the overseas revenues of Japanese automakers (FXD), such as Toyota and Honda Motor Company (HMC), saw a positive effect. In contrast, the overseas revenues of European automakers, including Volkswagen and Fiat Chrysler Automobiles (FCAU), fell due to strength seen in the euro against the dollar.
Revenue from home market
In fiscal 2018, Toyota's revenue from the Japanese market stood at 16.0 trillion yen, up 8.1% compared to the previous fiscal year. During the fiscal year, the company sold 2.3 million vehicle units in its home market, reflecting a year-over-year fall of ~0.8% in consolidated vehicle sales in Japan. Toyota's firm retail sales in the country boosted its revenue in its home market.
Read on to the next article to learn about how Toyota's revenue from North America shaped up in fiscal 2018.