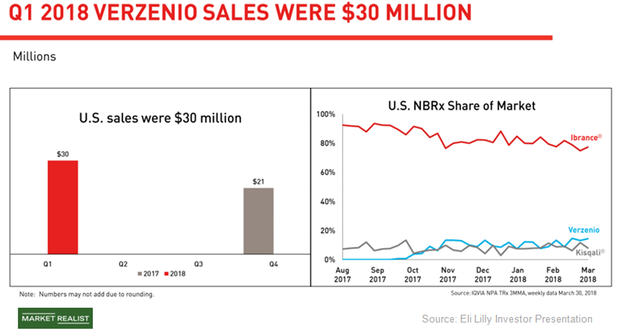 Verzenio: Major CDK4/6 Inhibitor in the Future
Verzenio's growth prospects
Launched in the US in October 2016, Eli Lilly's CDK4/6 inhibitor, Verzenio (abemaciclib) has been approved by the FDA in combination with fulvestrant in the second-line HR (hormone receptor)-positive HER2 (human epidermal growth factor receptor 2)-negative metastatic breast cancer indication for patients previously treated with endocrine therapy. The FDA has also approved Verzenio as monotherapy in the same indication for patients who have witnessed disease progression in the metastatic setting despite receiving endocrine therapy and chemotherapy.
Article continues below advertisement
On February 26, Verzenio secured FDA approval in combination with AI (aromatase inhibitor ) as first-line treatment for postmenopausal women suffering from HR-positive HER2-negative metastatic breast cancer. The approval was based on data from the Phase 3 trial, MONARCH 3, where women on Verzenio plus AI therapy demonstrated 28.2 months of PFS (progression-free survival)—compared to 13 months of PFS witnessed by those on a placebo combined with AI therapy. The MONARCH 2 and MONARCH 3 studies have also highlighted that Verzenio combined with endocrine therapy led to significant benefits for patients with certain clinical characteristics.
Market opportunity
While Verzenio's approval as monotherapy and in combination with fulvestrant enabled the drug to address one-third of the HR-positive HER2-negative metastatic breast cancer market, the approval with AI in the first-line setting has opened up the remaining two-thirds of the market for the drug. The broad label of Verzenio, across the continuum of the HR-positive HER2-negative metastatic breast cancer indication, has boosted adoption of the drug, which had a new-to-brand prescription share of 15% at the end of March.
Verzenio has demonstrated double-digit growth in new patient usage in patient segments targeted by the drug's first two approved indications. So far, the drug hasn't witnessed strong uptake in combination with AI in first line HR-positive HER-negative metastatic breast cancer indication. Since only 50% of the eligible patients are currently treated with CDK4/6 inhibitors, there's significant scope of improving market penetration for the entire class of drugs.
Next, we'll discuss Alimta's growth prospects.