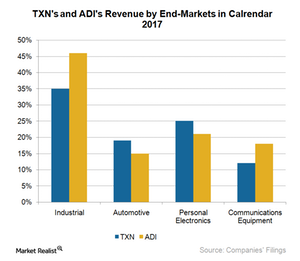 Industrial and Auto: Texas Instruments' Future Growth Drivers
Texas Instruments increases exposure to industrial and auto
Texas Instruments (TXN) is the bellwether of the economy since it caters to most major end markets, including industrial, automotive, personal electronics, communication equipment, and enterprise systems.
A few years ago, TXN had a high exposure to Apple (AAPL). The chipmaker supplied analog ICs (integrated circuits) for Apple's iPhones and watches. However, a slowdown in the personal electronics segment, which includes smartphones, encouraged TXN to shift its focus to the fast-growing automotive and industrial markets. On its fiscal 1Q18 earnings call, TXN's head of investor relations, Dave Pahl, stated that the company believes industrial and automotive are the fastest-growing semiconductor markets, where increasing semiconductor content is providing more opportunities.
At the end of 2017, TXN earned 35% of its revenue from industrial, 19% from automotive, 25% from personal electronics, 12% from communications equipment, and 6% from enterprise systems markets.
Article continues below advertisement
Article continues below advertisement
Industrial
Industries are using more machines and robots, which are becoming increasingly more complex and need more sensors in order to safely operate in a riskier environment. That's driving demand for chips used in robots and machinery and many more areas that support smart industries.
Texas Instruments realized this opportunity and started increasing its exposure in the industrial space. Analog Devices (ADI) increased its exposure to industrial by acquiring Linear Technology in March 2017. ADI now earns 49% of its revenue from that market. Intel (INTC) and Nvidia (NVDA) are investing in developing AI (artificial intelligence) factories.
Automotive
The number of electric vehicles is increasing, creating a need for more semiconductor content per car. Automakers are also investing in autonomous cars, creating the need for more sensors per car. TXN witnessed growth in the automotive sector as did ADI and Maxim Integrated (MXIM). ADI's automotive revenue rose 5% sequentially, and MXIM's automotive revenue rose 10% sequentially in 1Q18.
Article continues below advertisement
Personal electronics
Texas Instruments has been reducing its exposure in the personal electronics space, which serves the smartphone market. Apple is its largest customer in that space. Deutsche Bank analyst Ross Seymore stated that TXN earned 9% of its 2017 revenue from Apple. As the smartphone market slows down, TXN's orders from this market are also declining.
Despite this, the company witnessed strong growth in 1Q18, and so did Maxim, which has a high exposure in the consumer space. Maxim's consumer revenue rose 31% sequentially in 1Q18, whereas ADI, which has a high exposure to industrial, saw consumer revenue fall 24% sequentially.
Communications equipment
While all other markets are performing well, one market where TXN reported declines was the communications equipment market. The weakness in this market is reducing the impact of strong growth in other segments. That market is declining due to the slow buildup of the 5G (fifth-generation) network, which is awaiting finalization of the technical standards for 5G. Once 5G deployment begins, it would boost growth in the communications equipment market.
Check out all the data we have added to our quote pages. Now you can get a valuation snapshot, earnings and revenue estimates, and historical data, as well as dividend information. Take a look!