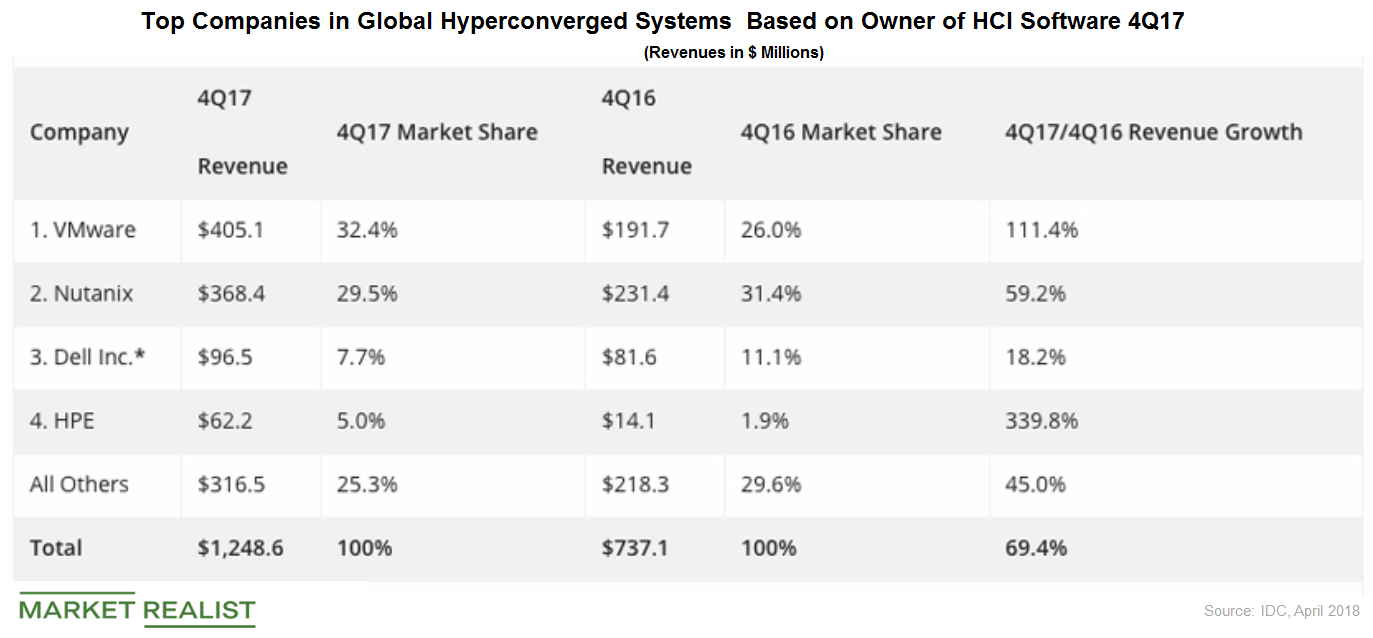 How Is HPE Positioned in the Hyperconverged Infrastructure Space?
By Anne Shields

May. 31 2018, Published 3:19 p.m. ET
HPE's position in the HCI space
In the previous article, we discussed how Hewlett Packard Enterprise's (HPE) acquisition of Plexxi could benefit it in the HCI (hyperconverged infrastructure) space, where competition continues to be fierce.
According to IDC, the global converged systems space grew 9.1% on a YoY (year-over-year) basis to $23.6 billion in Q4 2017. In 2017, this whole space grew 9.4% to $12.5 billion on a YoY basis. The growth in this space reflects the increased adoption of converged systems. Eric Sheppard, IDC's research vice president for enterprise servers and storage, said, "The number of organizations deploying converged systems continued to expand through 2017."
The following are the three segments that make up this space:
certified reference systems and integrated infrastructure, with FlexPods classified under the former and VxBlocks classified under the latter
integrated platforms, such as Oracle (ORCL) engineered systems
HCI systems
Article continues below advertisement
HPE's revenue grew the most in the HCI space
In this article, we are concentrating on HCI, as a lot of activity is happening in this subsegment, and it's the second-largest sector in the global converged systems space. Its revenue of $1.3 billion was up 69.4% on a YoY basis and 25% on a sequential basis in Q4 2017.
With $405.1 million in revenue, VMware is the leader in the HCI space, as the above presentation from IDC shows. VMware outgrew Nutanix (NTNX), which was in second place and had revenue of $368.4 million in Q4 2017. Dell's revenue rose 18.2% to $96.5 million, the least among its peers.
HPE's revenue rose 339.8% to $62.2 million in Q4 2017, making it the player with the most growth among its peers. Plexxi's acquisition could further complement HPE's position in the HCI space.
Cisco (CSCO) and NetApp (NTAP) feature among the other players in the HCI space. The overall market grew 69.4%, with VMware and HPE being the only players among the top four that grew faster. With growth rates of 18.2% and 59.2%, respectively, Dell EMC and Nutanix grew more slowly than the overall market.