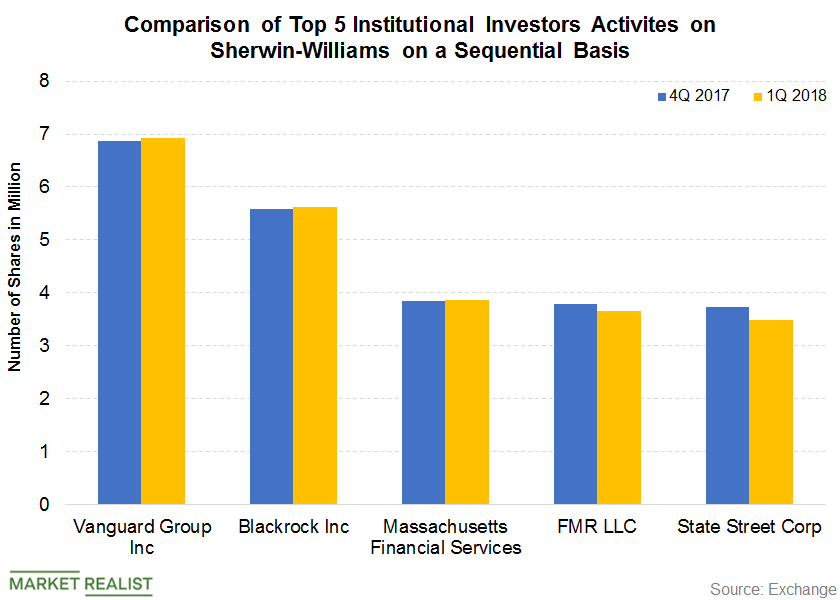 How Institutional Investors Are Playing Sherwin-Williams
By Peter Neil

May. 25 2018, Updated 10:50 a.m. ET
Institutional activities
March 31 13F filings indicate that institutional investors own 75.7% of Sherwin-Williams's (SHW) outstanding shares. At the end of the first quarter, SHW had 93.6 million outstanding shares, and 952 institutions held SHW. Among them, 340 institutions increased their SHW position, 446 reduced their position, and 166 maintained their position. The higher number of institutions on the selling side suggests bearishness toward the stock.
Article continues below advertisement
What the top five institutions' activities suggest
The top five institutional investors in Sherwin-Williams hold ~21% of its outstanding shares. Their number of shares sold have outnumbered their number of shares bought, again suggesting bearishness. Based on 13F filings, the top five institutional investors' holdings are as follows:
Vanguard has increased its Sherwin-Williams position by 1% sequentially to 6.9 million shares. The holding represents 7.4% of SHW's outstanding shares but only 0.11% of Vanguard's portfolio.
BlackRock (BLK) has increased its SHW position by 0.7%% sequentially to 5.6 million shares. The holding represents 6.0% of SHW's outstanding shares, but only 0.1% of BlackRock's portfolio.
Massachusetts Financial Services has increased its SHW position marginally to represent 4.1% of SHW's outstanding shares. Massachusetts Financial has invested 0.6% of its holdings in SHW.
FMR LLC has reduced its exposure to Sherwin-Williams by 3.4%, from 3.8 million shares to 3.7 million. It has invested 0.17% of its portfolio in SHW.
State Street (STT) has significantly reduced its SHW position, by ~6.7% sequentially from 3.7 million shares to 3.5 million shares. However, SHW still constitutes 0.11% of STT's portfolio.
Investors can indirectly hold Sherwin-Williams through the First Trust Materials AlphaDEX ETF (FXZ) which had invested 2.5% of its portfolio in SHW and 3.6% in LyondellBasell (LYB) as of May 24.