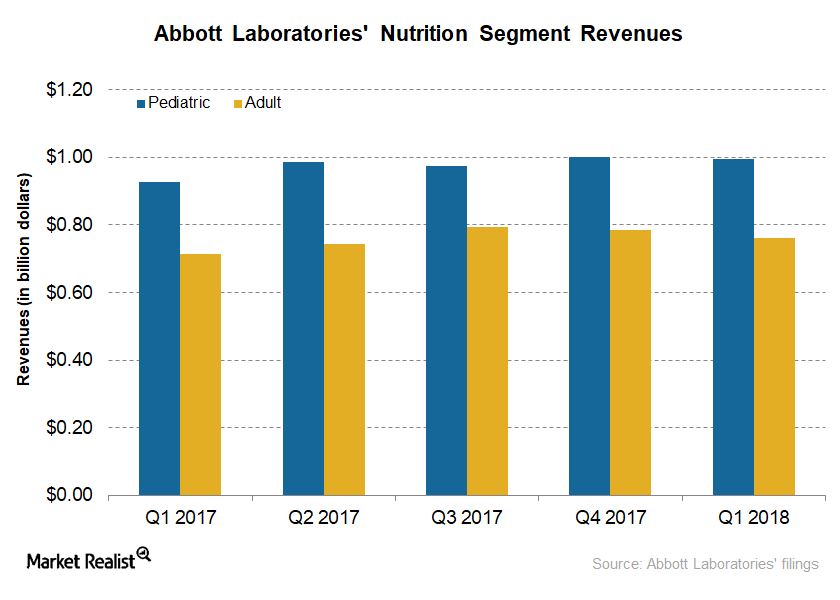 Discussing Abbott's Market Position and Growth Prospects in China
Abbott's 1Q18 performance in China
Abbott Laboratories (ABT) has registered some pressure in its China Nutritionals business. However, the company reported better-than-expected performance in this market in 1Q18. The company stated that the market has stabilized, and it expects predictable market performance going forward.
Over the past year, the market has seen trends such as oversupply leading to price discounting due to new food safety regulations that should become effective in 2018. This impacted Abbott's Nutritionals business performance in 2017, and some of this impact was seen in 1Q18 as well.
Since the new food safety regulations have come into effect starting January 1, China's nutrition market has seen improving market conditions. According to Abbott Laboratories, emerging markets such as China are expected to be strong growth drivers for the company over the long term.
China contributes significantly to Abbott Laboratories' Established Pharmaceuticals division, which registered sales of ~$1.1 billion, representing YoY (year-over-year) growth of ~10.0%. China's sales for the segment registered double-digit growth.
Among ABT's peers, Becton, Dickinson and Company (BDX), Medtronic (MDT), and Johnson & Johnson (JNJ) also have significant exposure to China. These companies believe that this market has immense growth potential.
Article continues below advertisement
Impact on Abbott in case of a US–China trade war
Abbott Laboratories has a significant manufacturing footprint in China. Abbott's acquisition of Alere added a significant diagnostics products portfolio that is manufactured in China and imported to the United States. This is a major portion of the business that could have a noticeable impact from the tariff standpoint in the event of a China–US trade war.
Abbott Laboratories manufactures infant nutrition products in China, and it makes significant exports to China as well. According to Abbott Laboratories, if the company nets out the potential tariff impact, it expects minimal impact on exports to China. However, the financial impact would be seen on products manufactured in China and imported to the United States.
Be sure to check out all the data we've added to our quote pages. Now you can get a valuation snapshot, earnings and revenue estimates, and historical data, as well as dividend information. Take a look!