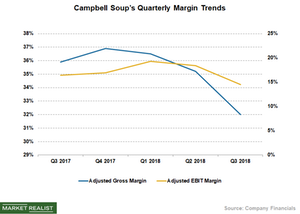 Campbell Soup's Margins Could Continue to Contract
Fiscal third-quarter performance
The Campbell Soup Company (CPB) continued to report sluggish margins as higher-than-expected inflation in commodities and transportation costs remained a drag. During its fiscal third quarter, Campbell Soup's adjusted gross margin contracted 390 basis points to 32.0%, reflecting a negative impact of 320 basis points due to inflation in commodities. The new tariffs will likely further accelerate inflation in raw materials, including dairy, meat, wheat, resins, and steel cans.
Meanwhile, transportation and logistics costs have escalated, putting significant pressures on Campbell's margins. Higher promotional spending to drive volumes amid a tough retail environment are also squeezing the margins of packaged food manufacturers.
Article continues below advertisement
The gross margins for the company's peers the Hershey Company (HSY), J.M. Smucker (SJM), Conagra Brands (CAG), the Kellogg Company (K), and General Mills (GIS) have also remained subdued owing to higher manufacturing, packaging, and transportation costs. Meanwhile, increased promotional spending and a highly competitive retail environment have furthered pressure the margins of these companies.
Campbell Soup's adjusted EBIT (earnings before interest and tax) margin decreased ~200 basis points to 14.5%, reflecting higher marketing and selling expenses due to its recent acquisitions, partially offset by lower incentive compensation costs.
Outlook remains bleak
Campbell Soup's margins for the fourth quarter and fiscal 2018 are likely to stay low. Higher-than-expected inflation in commodities and logistics costs is expected to hurt the company's gross margin. Also, increased trade spending, higher marketing and selling costs related to recent acquisitions, and soft organic sales are expected to hurt its profit margins in the coming quarters.