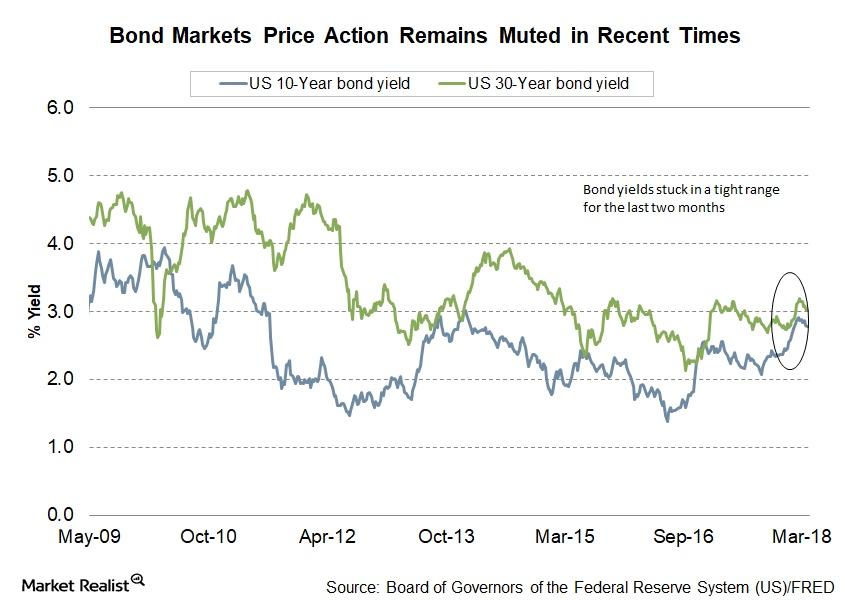 Why Bond Yields Weren't Affected by the March Inflation Report
By Ricky Cove

Apr. 16 2018, Updated 4:35 p.m. ET
Inflation and bond yields
US bond market investors are constantly concerned about inflation. Inflation (TIP) diminishes their real returns, leaving them with little action in the current economic climate of stagnant inflation and rising rates. The most recent inflation (VTIP) report indicated that core inflation moved closer to the Fed's 2% target, which could translate into further rate hikes from the central bank. At its recent meeting, the Fed clearly stated that it would continue tightening if supported by economic data. If interest rates and inflation (SCHP) start rising, bond (BND) yields could rise in response and bond prices could fall.
Article continues below advertisement
Bond yields remained unaffected
US bond yields were largely unaffected by the inflation report favoring higher rates. Ten-year yields have been stuck in a five-point range over the last few weeks, close to 2.8%. Higher risks of a trade war, military action in Syria, and higher inflation (TDTT) failed to move bond markets. Investors may be waiting on the sidelines to make sense of what is happening. Whereas the yield curve has flattened in the last few weeks despite the Fed's hawkishness, this strong inflation report could lead to yield curve changes.
Bond yields going forward
Going forward, if inflation continues to improve, we could expect bond yields at the long end of the curve to increase. On the other hand, if inflation remains within the five-point range and the Fed continues to increase rates, bond markets are unlikely to move significantly. Adverse movements could be triggered by risk-off sentiment due to geopolitical tension, which seems to be just a tweet away these days.