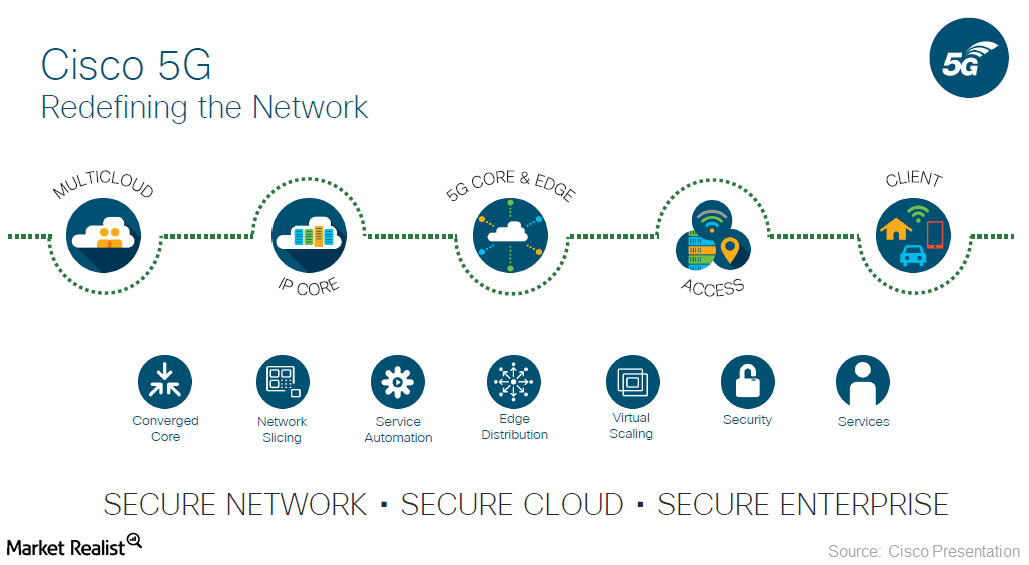 What Services Could Cisco Provide in the High-Growth 5G Segment?
By Adam Rogers

Apr. 12 2018, Updated 5:10 p.m. ET
Redefine the network
At the Mobile World Congress event in Barcelona in February 2018, Cisco Systems (CSCO) outlined five megatrends that it believes will impact service providers. These megatrends include 5G, automation, virtualization and cloud, bandwidth explosion and edge migration, and B2B M2M.[1. machine to machine] 
We'll look at the first two megatrends closely in this series and how Cisco Systems aims to help service providers grow their business in a cost-efficient manner.
Similar to the Europe-based (EFA) Ericsson (ERIC) and Nokia (NOK), Cisco Systems is also eyeing the 5G space to drive future revenues. Cisco Systems' 5G strategy follows a cloud-to-client approach in which multivendor solutions are unified into a single standard architecture.
Article continues below advertisement
Products across platforms
In the multi-cloud space, Cisco Systems has invested in capabilities such as cloud center, open stack development, and NFVI (network function virtualization infrastructure). Cisco Systems has also partnered with Google (GOOG) to deliver a hybrid cloud solution.
With respect to IP core, Cisco Systems noted that it expects its NCS-500 access routers to expand "programmability and capability to feed real-time telemetry for automation, and simplifying mass scale networking to optimize cost per bit, with no regrettable spend."
Cisco Systems' cloud-native next-generation mobile packet core is known as the Cisco Systems Ultra Services Platform. This platform allows users to leverage a distributed architecture and extend services as required.