Understanding FibroGen's Research Pipeline
Apart from Roxadustat, other products in FibroGen's pipeline include Pamrevlumab (or FG-3019) and FG-5200.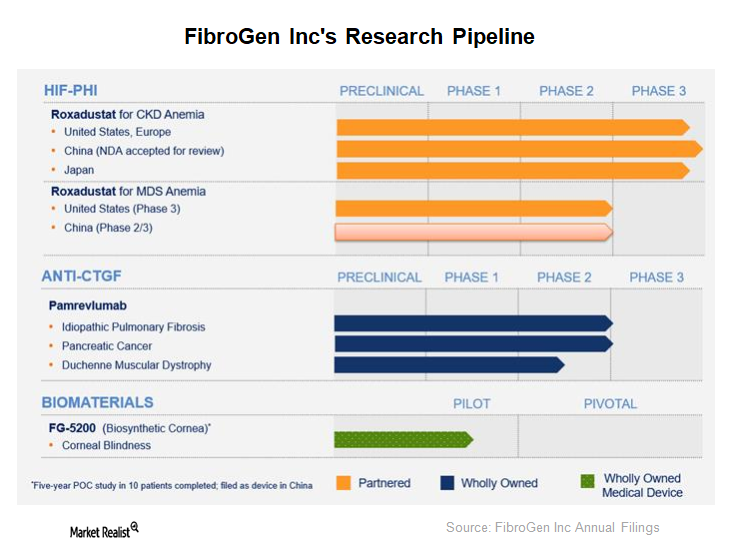 Research pipeline
FibroGen (FGEN) is capitalizing on its extensive experience in fibrosis and hypoxia-inducible factor (or HIF) biology to advance a pipeline targeted for the treatment of anemia, fibrotic disease, cancer, and corneal blindness.
Article continues below advertisement
Article continues below advertisement
Pamrevlumab
Apart from Roxadustat, other products in FibroGen's pipeline include Pamrevlumab (or FG-3019) and FG-5200. FG-3019 is a fully human monoclonal antibody that inhibits the activity of connective tissue growth factor. It's currently in Phase 2 for the treatment of idiopathic pulmonary fibrosis (or IPF), pancreatic cancer, and Duchenne muscular dystrophy (or DMD).
FibroGen announced on March 1, 2018, that the FDA had granted a fast track designation to pamrevlumab for the treatment of patients with locally advanced unresectable pancreatic cancer.
Roxadustat 
FibroGen and its collaboration partners have enrolled more than 8,000 patients in its Phase 3 global program for the treatment of anemia in patients with chronic kidney disease (or CKD). According to IMS Health, sales of injectable erythropoiesis-stimulating agents (or ESAs) in 2013 in all anemia indications totaled $8.6 billion.
The use of ESAs to treat anemia in CKD is mostly limited to patients who are dialysis dependent (or DD). FibroGen believes that as an oral agent, Roxadustat—with its favorable safety profile—can increase accessibility and expand the market for anemia treatment. In the long term, Roxadustat has the potential to address non-CKD anemia markets, which include chemotherapy-induced anemia, anemia related to inflammation, myelodysplastic syndromes, and surgical procedures that require red blood cell transfusions.
Along with its collaboration partners Astellas Pharma (ALPMY) and AstraZeneca (AZN), FibroGen has designed a major global Phase 3 program to support the approval of Roxadustat for NDD-CKD (nondialysis-dependent) and DD-CKD patients in the United States, the European Union, Japan, and China. Notably, the drug's US and EU Phase 3 program is the largest Phase 3 clinical program ever conducted for an anemia product candidate.
In the next part of the series, we'll take a look at the financial performance of FibroGen.