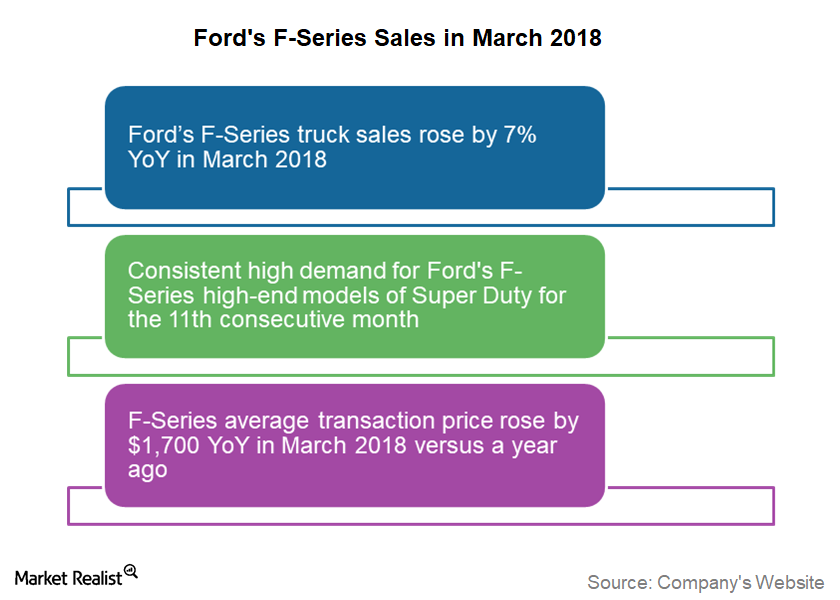 Ford Reported 11th Consecutive Month of F-Series Sales Gains
F-series sales in March 2018
In March 2018, Ford Motor Company's (F) F-Series truck US sales totaled 87,000 units, reflecting a sales rise of ~7% on a YoY (year-over-year) basis. In February 2018, 68,000 units of F-Series trucks were sold in the United States—a 3.5% rise YoY.
In 2017, the company sold ~0.90 million F-Series units, reflecting a rise of 9.3% YoY. With this, 2017 stood out to become the best year for F-Series US sales since 2005.
Except in April 2017, F-Series sales grew positively in all other 11 months of 2017. March 2018 was the 11th month in a row during which Ford reported YoY gains in its Ford F-Series US sales.
Article continues below advertisement
Super Duty F-Series trucks
The demand for F-Series Super Duty truck models such as King Ranch and other high-trim level truck variants continued to be solid last month, which drove total F-Series sales up. Also, the sales of the company's recently launched 2018 F-150 truck have seen continued strength in the last five of months in a row.
In March 2018, the ATP (average transaction price) of F-Series trucks rose $1,700 YoY but fell $400 sequentially to $47,000.
Possible impact on 1Q18 profits
In 2017, Ford stock underperformed the broader market. Ford inched up by 3.0% compared to the 19.4% gain in the S&P 500 Index in the year. Ford's 2018 has also begun on a weak note, with its stock falling ~8.3% year-to-date as of April 4. The company's dismal 2018 financial outlook could be the key reason for its unimpressive performance on Wall Street so far this year.
In the pickup truck market, legacy auto companies (XLY) such as General Motors (GM), Toyota Motor (TM), and Fiat Chrysler Automobiles (FCAU) compete with Ford's F-Series. GM's Chevrolet Silverado, Toyota's Tacoma, and FCAU's Ram are some of the notable light-truck brands in the American market.
Ford's F-series trucks and other SUVs (sport-utility vehicle) typically yield higher profits compared to its other small cars. This difference is why consistent improvements in F-Series sales figures are likely to boost investors' confidence in Ford stock.
Continue to the next article, where we'll learn about Ford's US retail and detailed truck segment sales in March 2018.