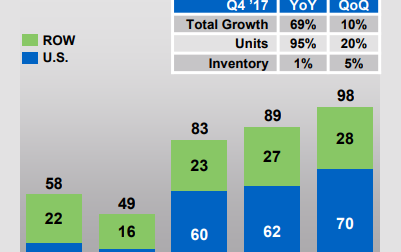 Exploring the Growth Trajectory of Amgen's Repatha
By Kenneth Smith

Apr. 12 2018, Updated 12:20 p.m. ET
Repatha
Amgen (AMGN) is one of the world's leading biotechnology companies, with a presence in ~100 countries.
Amgen's Repatha is a human monoclonal antibody that inhibits proprotein convertase kexin type nine (or PCSK9). The drug has been approved in more than 50 regions, including the United States, Japan, Canada, and the European Union.
In March 2017, the Phase 3 study evaluating Repatha in patients who were receiving apheresis to reduce LDL-C met its primary endpoint. In October 2017, a Phase 3 study of Repatha on top of maximally tolerated statin therapy in type 2 diabetes patients met its coprimary endpoints. Following a priority review of Amgen's supplemental biologics license application (or sBLA), the FDA approved Repatha for the prevention of heart attacks and strokes in December 2017. The FDA also approved Repatha as an adjunct to diet for the treatment of patients with primary hyperlipidemia to lower LDL-C.
Article continues below advertisement
Sales growth
In 2017, Repatha generated total sales of $319 million compared to $141 million in 2016. This growth was driven by its US sales, which rose from $101 million in 2016 to $225 million in 2017. The drug's revenues from the rest of the world also grew at a healthy pace, from $40 million in 2016 to $94 million in 2017.
Competition
One of Repatha's key competitors is Praluent by Sanofi and Regeneron. In October 2017, the United States court of appeals partly reversed a previous decision that had prohibited Sanofi, Aventis, and Regeneron from infringing on two patents that Amgen held for Repatha.
In the next part of the series, we'll take a look at Dupixent by Sanofi and Regeneron.