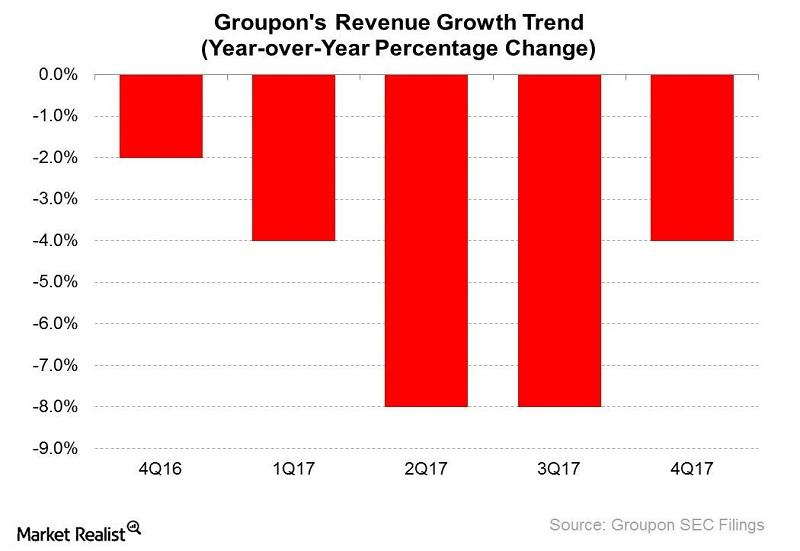 A Look at Groupon's Top Line and What to Expect in 2018
By Neha Gupta

Apr. 4 2018, Published 12:34 p.m. ET
Groupon prioritizing profitability
Groupon's (GRPN) priority is to improve profitability. However, Groupon's e-commerce counterparts, Amazon (AMZN) and Alibaba (BABA), are prioritizing growth over profitability. As we've seen in recent quarters, Groupon's focus on improving profitability is coming at the expense of its revenue growth, which is sliding. Groupon's focus on profitability is expected to continue to limit revenue growth in 2018. Whereas Groupon's strategy of putting profitability before growth led to its top line sliding last year, gross profits increased during most of the year.
Article continues below advertisement
Revenue fell 4.0% in 4Q17
While Groupon's revenue declined 4.0% YoY (year-over-year) in 4Q17, its gross profit rose 10% YoY. In 3Q17, its revenue declined 8.0% YoY, and its gross profit increased 6.0% YoY. At Amazon, revenue increased 38% YoY and profit increased about 150% YoY, helped by the US tax cut.
At eBay (EBAY), Alibaba (BABA), and JD.com (JD), revenue grew faster than profits in 4Q17. JD.com suffered a loss in 4Q17, but the loss decreased 27.9% YoY. Its revenue increased 38.7% YoY. The chart above highlights Groupon's revenue growth over the last several quarters.
Withdrawal from international markets
In 2017, Groupon's revenue fell 6.0% to $2.8 billion. Its fiscal 2017 gross profit increased 4.0%. Groupon's strategy to prioritize profitability over growth has gained momentum, with Groupon's withdrawal from certain international markets allowing it to focus on building a stronger presence in North America.