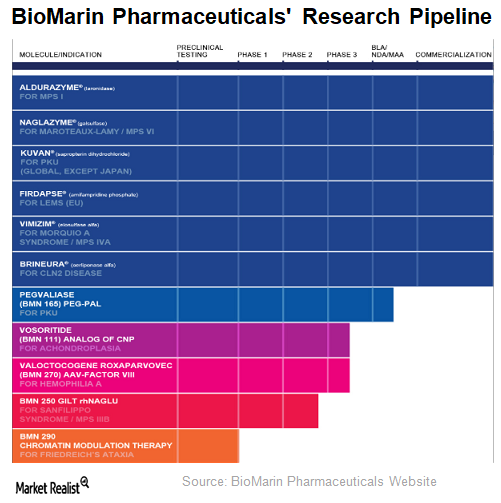 A Look at BioMarin Pharmaceuticals' Therapy Portfolio
By Kenneth Smith

Apr. 25 2018, Updated 7:01 p.m. ET
Therapy portfolio
BioMarin Pharmaceuticals' (BMRN) key marketed products include Aldurazyme for treating Mucopolysaccharidosis one (or MPS1), Brineura for treating late infantile neuronal ceroid lipofuscinosis type 2 (or CLN2), and Firdapse for treating Lambert Eaton Myasthenic Syndrome (or LEMS). 
Its products also include Kuvan for treating phenylketonuria, Naglazyme for treating Mucopolysaccharidosis six (or MPS six), and Vimizim for treating MPS type four A.
Article continues below advertisement
Key product candidates
BioMarin Pharmaceuticals invests significant resources in its research and development programs. Its major product candidates include pegvaliase, which is an enzyme substitution therapy for treating phenylketonuria (or PKU); vosoritide, which is a peptide therapeutic for treating achondroplasia; and valoctocogene roxaparvovec for treating severe hemophilia A. 
Also, BMN 250 is an investigational enzyme replacement therapy for treating Sanfilippo Syndrome Type B, and BMN 290 treats Friedreich's ataxia. BMN 290 is a selective chromatin modulation therapy.
Recent developments
On December 22, 2017, BioMarin Pharmaceuticals announced it had dosed the first patient in its global GENEr8-1 Phase 3 study for valoctocogene roxaparvovec. This is the first of two Phase 3 studies in the company's global Phase 3 program, which includes two studies of the drug at different doses. 
The company plans to enroll the first patient in the GENEr8-2 study in 2018. The drug was granted breakthrough therapy designation by the FDA in October 2017.
Sale of priority review voucher
In December 2017, BioMarin Pharmaceuticals sold a rare pediatric disease priority review voucher to Novartis (NVS) for $125.0 million. BioMarin had received the voucher from the FDA in April 2017 when it received approval for Brinuera for treating CLN2.
In the next part of this series, we'll take a look at the financial performance of BioMarin Pharmaceuticals.