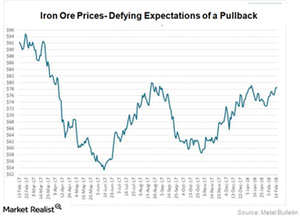 Why Seaborne Iron Ore Prices Might Not Impact Cleveland-Cliffs Much
<p>Iron ore prices showed a lot of volatility in 2017, which is continuing well into 2018. </p>
Volatility affects iron ore
Iron ore prices showed a lot of volatility in 2017, which is continuing well into 2018. While most recently, iron ore prices have seen a slight decline due to the perceived impact of US steel tariffs, overall, the prices have remained firm in 2018. After the sharp rebound in 2017, analysts were cautioning about a pullback in prices. Year-to-date, iron ore prices have defied all those expectations. On February 21, prices hit $78.3 per ton, a five-week high. Prices have yet to touch the psychologically important $80-per-ton mark this year. The last time prices hit this level was April 2017.
Article continues below advertisement
Article continues below advertisement
Iron ore miners
Along with iron ore prices, the stock prices of iron ore miners (XME) also experienced great volatility in 2017 and year-to-date (or YTD). BHP (BHP), Rio Tinto (RIO), and Vale (VALE) have gained -0.6%, -1.3%, and 9.7%, respectively, as of March 5, 2018. Cleveland-Cliffs (CLF), on the other hand, has lost 7.5% in the same period.
CLF's performance
After underperforming its seaborne iron ore peers for a long time, Cliffs has finally started outperforming them. The most recent bout of strength is due to the imposition of steel tariffs by the US administration. While seaborne prices were doing fine, CLF's Asia-Pacific unit was attracting discounts on its products, which had lower-than-benchmark (sub-62%) iron ore content. In its 4Q17 earnings, the company announced that it will accelerate the closure of its seaborne iron ore operations. Its seaborne operations had turned EBITDA (earnings before interest, tax, depreciation, and amortization) negative in 4Q17. Cliffs had clarified that it will operate this unit until it's EBITDA-positive. Given high discounts and costs, it has decided to accelerate the closure of its mining operations in Australia.
However, until then, its stock price will likely continue to be affected by seaborne iron ore prices. In the next few parts of this series, we'll discuss the factors that impact seaborne iron ore prices.