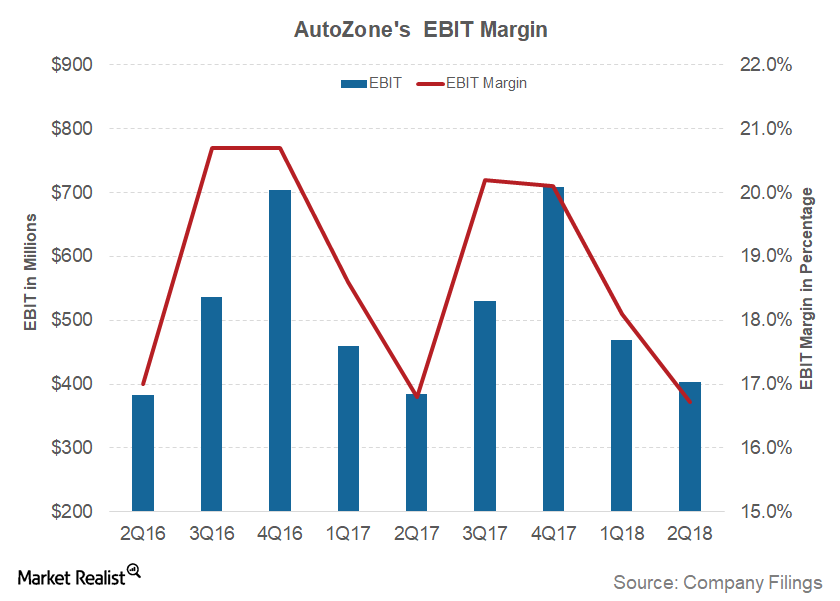 Why AutoZone's Profit Margin Failed to Impress in Fiscal 2Q18
AutoZone's 2Q18 earnings
Previously, we looked at how AutoZone's (AZO) key business segments fared in 2Q18. The company's focus on improving parts availability and the in-store experience continued to drive growth. AZO's commercial and online retail business traffic grew during the quarter. Let's find out how these factors affected AutoZone's profitability in 2Q18.
Article continues below advertisement
Article continues below advertisement
Profit margin in 2Q18
In 2Q18, AutoZone had gross profit of $1.27 billion, ~5.9% higher than the $1.21 billion it saw in 2Q17. The company's gross margin was 52.9%, nearly flat compared with 2Q17's 52.7%. In 1Q18, AZO reported a gross profit margin of 52.8%.
AutoZone had adjusted EBIT (earnings before interest and tax) of $403 million in 2Q18, and an operating profit margin of 16.7%—slightly narrower than its operating profit margin of 16.8% in 2Q17. Similarly, the company's adjusted net profit margin narrowed to 9.8% from 10.4% in 2Q17.
Key factors
In 2Q18, AutoZone's gross margin improved slightly, primarily due to lower distribution costs and wider merchandise margins. In the last couple of years, AutoZone has focused on increasing its in-store auto part inventories. In 2Q18, inventories at the company's stores rose 4.7% year-over-year. While replenishment measures have improved inventory availability at stores, they have also increased supply chain costs.
Interestingly, auto part retailers' gross profit margins are much wider than those of mainstream automakers (FXD) such as General Motors (GM), Ford (F), and Fiat Chrysler (FCAU). This margin difference is primarily due to fixed and operational costs being significantly higher in auto manufacturing. Continue to the next part to learn about analysts' expectations for AutoZone's future earnings.