What's LHC Group's Business Strategy?
In 2018, LHC Group is expected to report revenue of $1.2 billion. What about its peers?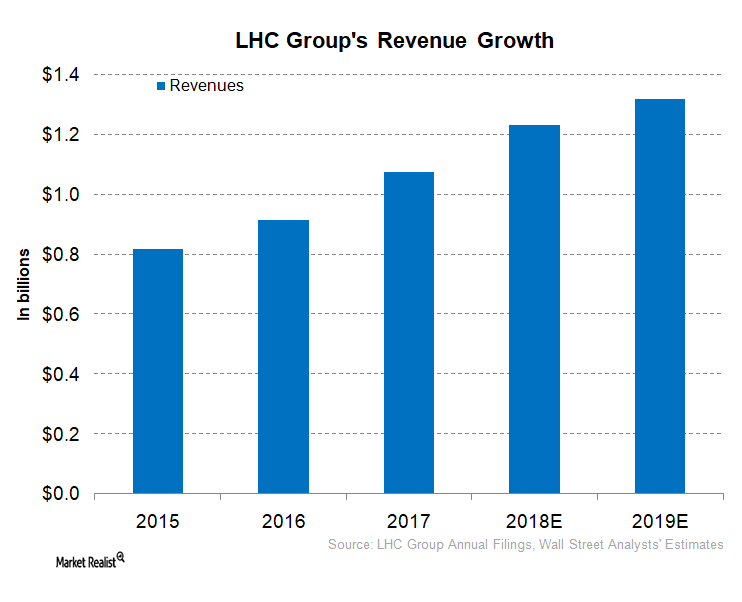 Business strategy
With the goal of becoming the leading provider of home health, hospice, and community-based services, LHC Group's (LHCG) business strategy involves driving internal growth in existing markets, achieving margin improvements through active cost management, expanding into new markets, pursuing strategic acquisitions, and developing joint ventures.
LHC Group intends to drive internal growth by increasing the number of healthcare providers from whom it receives referrals and by expanding the breadth of its services. To drive its margins, the company is focusing on managing its costs, as it generates its revenue in a fixed-payment environment under Medicare's prospective payment systems.
Article continues below advertisement
Article continues below advertisement
LHC Group aims to expand into new markets by utilizing its point-of-care technology, developing new locations, and acquiring existing Medicare or Medicaid certified agencies in attractive US markets. The company also has in place a unique strategy of partnering with hospitals and health systems. These ventures offer it a substantial return on investment. Additionally, LHC Group plans to continue acquiring freestanding agencies, which could serve as growth platforms in markets LHC Group doesn't currently serve.
LHC Group aims to continue to identify and evaluate opportunities for strategic acquisitions that can enhance its market position, increase its referral base, and expand the breadth of its services.
Major revenue sources
LHC Group earns most of its revenue from Medicare, Medicaid, and managed care, which contributed 71%, 1.8%, and 27.2% of its total revenue, respectively, in 2017.
In 2018, LHC Group is expected to report revenue of $1.2 billion, while its peers AmerisourceBergen (ABC), Express Scripts Holding Company (ESRX), and CVS Health (CVS) are expected to report revenues of $167 million, $101 million, and $189 million, respectively, in 2018.
In the next part of this series, we'll take a look at LHC Group's financial performance.