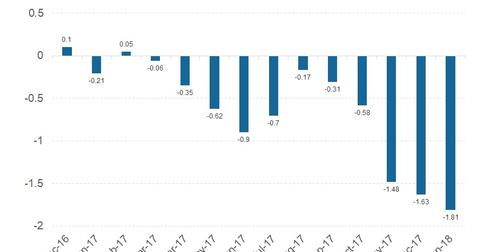 What the Lending Credit Index in January Tells Us Now
By Ricky Cove

Updated
Understanding the Leading Credit Index                      
The Conference Board uses credit conditions in the economy as one of the key constituents in its LEI (Leading Economic Index). This constituent of the LEI is an economic model, constructed by modeling changes in six financial market instruments. These six components of the Leading Credit Index track the lending conditions in the economy.
The six constituents of this index are as follows:
Two-year Swap (SHY) Spread (real time)
debit balances at margin account at broker-dealer (monthly)
AAII Investors Sentiment Bullish (%) less Bearish (%) (weekly)
Senior Loan Officers C&I Loan Survey (bank tightening credit to large and medium firms) (IWM) (quarterly)
Security Repurchases (GOVT) (quarterly) from the Total Finance-Liabilities section of Federal Reserve's flow of fund report
Article continues below advertisement
Performance of the Leading Credit Index in January
The Leading Credit Index for the month of January was reported at -1.81, improving further from the revised December reading of -1.62. A negative value of the leading credit index is considered to have a positive impact on the economy. The lower the value, the easier it is to obtain credit.
This Leading Credit Index has a weight of 8.2% on the LEI and in the December report. The Leading Credit Index had a net positive impact of 0.11 (or 11%) on the LEI's overall improvement.
Credit conditions signal easier availability of credit
The availability of credit is an important condition for economic growth. Businesses that provide employment have to access to credit to improve their businesses. According to the latest reading, credit conditions have improved, and with the added benefits of business tax cuts, we can likely expect further improvements in the US economy.
In the next part of this series, we'll discuss how bond market worries about the flattening yield curve gave way to anxiety about rising yields.