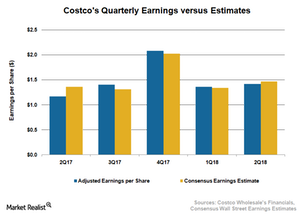 What Drove Costco's Double-Digit Earnings Growth in 2Q18?
2Q earnings miss estimate
Costco (COST) reported lower-than-expected fiscal 2Q18 earnings (period ended February 18, 2018) results on March 7, 2018. Costco's adjusted EPS (earnings per share), excluding the benefit of the lower tax rate, came in at $1.42, which missed the analysts' estimate of $1.47 but rose 21.4% on a YoY (year-over-year) basis. Moreover, including the benefit of lower taxes, Costco's bottom line jumped 35.9% on a YoY basis.
Article continues below advertisement
Article continues below advertisement
Factors driving Costco's bottom line
Costco continues to report stellar bottom-line growth despite pressure on its margins. Notably, Costco's EPS marked double-digit growth in the past four quarters (including fiscal 2Q18). The company's industry-leading comps growth coupled with cost-saving measures continue to drive its earnings higher. However, similar to its peers, price investments remained a drag.
Mass merchandisers continue to invest in price to drive store traffic, as Amazon (AMZN) expands in the grocery space. However, price investments are taking a toll on their profitability. Plus, costs related to new fulfillment options further subdue margins and EPS.
Rivals Walmart (WMT) and Target (TGT) reported weaker-than-expected bottom-line results in their recently concluded quarter. Target's fiscal 4Q17 earnings fell 5.5% on a YoY basis and missed analysts' expectation as lower pricing and increased fulfillment costs dented its quarterly profit. On the contrary, Walmart managed to improve its fiscal 4Q18 EPS, but its adjusted earnings remained shy of analysts' estimate as margin pressure stemming from the adverse mix, price investments, and higher transportation costs remained a drag.
As for Costco, analysts expect the company to continue to report strong double-digit EPS growth in coming quarters, reflecting its stellar sales growth rate. However, margin headwinds from price investments and rivals strengthening their digital capabilities remain a concern and could adversely impact Costco's performance.