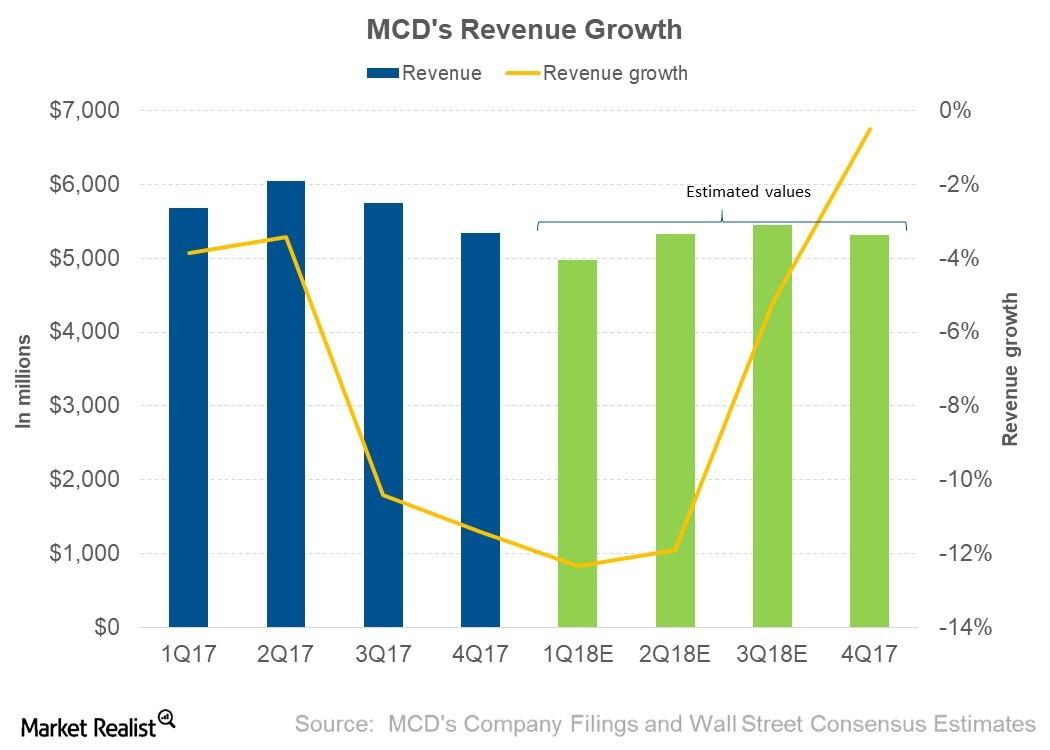 What Analysts Expect for McDonald's Revenue in 2018
Revenue expectations
In 2018, analysts expect McDonald's (MCD) to post revenue of $21.1 billion, which represents a fall of 7.7% from its revenue of $22.8 billion in 2017. As part of its optimizing strategy, McDonald's has been refranchising its company-owned restaurants. The refranchising is expected to lower the company's revenue in 2018.
However, some of the revenue decline is expected to be offset by positive SSSG (same-store sales growth) and the addition of new restaurants. Management expects to open 1,000 restaurants in 2018, with a net addition of around 600 units.
Article continues below advertisement
Article continues below advertisement
To drive its SSSG, McDonald's is focusing on menu innovations, digital advancements, delivery service expansion, and restaurant remodeling. The company introduced its $1 $2 $3 Dollar Menu in January 2018 in all US restaurants. To improve the quality of the food it serves, McDonald's has started serving fresh beef Quarter Pounder patties in about 3,500 of its domestic restaurants, and expects to expand them to 14,000 restaurants by May 2018.
By the end of 2017, McDonald's was providing delivery service from 10,000 (more than one-quarter) of its restaurants and offering mobile order-and-pay service in 20,000 of its restaurants, and had remodeled one-third of its restaurants to fit its EOTF (Experience of the Future) dining model. In 2018, the company plans to upgrade 4,000 more restaurants to EOTF and expand its delivery and mobile order-and-pay services.
Peer comparison