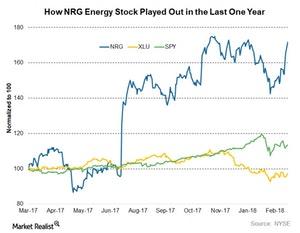 NRG Energy's Current Valuation
Valuation
Currently, NRG Energy (NRG) stock is trading at an EV-to-EBITDA[1. Enterprise value to earnings before interest, tax, depreciation, and amortization] valuation of 12x—compared to its five-year historical valuation of around 11x. Utilities at large are trading at an EV-to-EBITDA valuation of 11x. NRG Energy stock appears to be trading at a large premium compared to its peers and its historical average.
Considering NRG's price to earnings multiple, we see that it's presently at 17x—higher than industry average (XLU) of 13x.
Article continues below advertisement
Article continues below advertisement
NRG stock started rallying in January after activist shareholders disclosed their stakes in the company. The restructured board introduced a transformation plan in July 2017 that focuses on expanding the core business and trimming down debt. NRG might be on track with its transformation plan, but it could take time to become a profitable company due to fundamental weaknesses in the merchant power business.