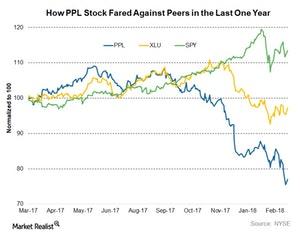 How's PPL Stock Valued Compared to Its Peers?
Valuation
Utilities are trading weak mainly because of the Fed's aggressive stance on the interest rate hike this year. At the same time, the weakness in PPL stock intensified due to Brexit-related developments and volatile exchange rate movements. PPL's valuation fell significantly in the last few months. Currently, PPL is trading at a PE (price-to-earnings) multiple of 13x—compared to peers' (XLU) average valuation around similar levels. PPL has its five-year historical average valuation near 14x.
Considering the PE valuation, PPL looks fairly valued compared to its peers. PPL appears to be trading at a discount to its historical valuation.
Xcel Energy (XEL) is trading at a PE multiple of 19x, while Duke Energy (DUK) stock is trading at 21x. Both of these stocks appear to be trading at a premium compared to the industry average.
The above graph shows PPL's stock price movement compared to its peers and broader markets since the beginning of 2017. Due to the steep stock fall in the last few months, PPL's dividend yield peaked at a five-year high. To learn more, read PPL's Dividend Profile: Everything You Need to Know.
Article continues below advertisement
Article continues below advertisement